Bombshell? Simon Cowell Says He "Helped Broker The Deal" For Piers Morgan To CNN (Update)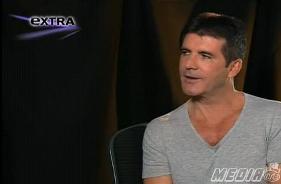 Leave it to Simon Cowell, the most brutally honest person on TV, to potentially break the news that yes, CNN is indeed hiring Piers Morgan to replace Larry King.
During a brief interview with Extra TV, Cowell said he personally helped "broker the deal." As in, done deal.
"Well I knew about this weeks ago, because he was under contract to us on America's Got Talent," said Cowell. "So he called me. We helped, sort of, broker the deal."
"Weeks ago" makes sense with the timeline – the first rumors that Morgan was negotiating with CNN was in early June. Cowell reiterated his point: "When someone gets offered a job like that you can't stand in their way."
If CNN is mad at Cowell for speaking out about what it hoped to keep quiet, they will at least be happy to see the American Idol judge heap praise on Morgan, the interviewer. Cowell called him "the best interviewer I've ever been interviewed by…We've always said this is eventually where he's going to end up."
When we interviewed CNN/U.S. President Jon Klein earlier this week, we asked about the Morgan leaks – leaks Klein described as "not worth talking about." Marisa Guthrie of Broadcasting & Cable got a more straight answer from Klein: "We have never negotiated with Piers."
Does that mean Jon Klein personally? Who is this "we"? Because with Cowell's admission, even if it takes months to hear Morgan will be CNN's new 9pmET host, it will feel like all this was settled in June – before Larry King's announcement, and certainly long before CNN wanted to admit it had lined up a replacement. We'll have more as we get it, and we've contacted CNN for comment.
> Update at 1pmET: Here's the statement from a CNN spokesperson (which doesn't address Cowell's comments directly):
We have not offered Piers Morgan a job, and we are not currently in negotiations with him. We are always open to new opportunities and to various talent who express an interest in our programming. Piers is one such talent, but there is no deal.
Side note: for you American Idol fans, Cowell thinks Harry Connick, Jr. will replace him as a judge:
Check out his Piers Morgan comments:


While Cowell may have brokered this deal, he's never been named a CNN.com "Connector of the Day." But Piers Morgan has! Check it out, from June 10 of this year. Foreshadowing?


—–
» Follow Steve Krakauer on Twitter
Have a tip we should know? tips@mediaite.com