'Boo Hoo': Dem MSNBC Guest Claims GOP'ers 'Demeaning Women' by Criticizing Wendy Davis' Divorce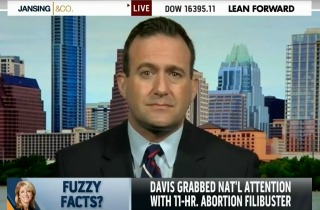 Two out of two MSNBC guests agreed on Tuesday that Texas Democratic gubernatorial candidate Wendy Davis flagrantly misrepresenting her biography in order to sell the public on an airbrushed version of her personal history is much ado about nothing.
The blatant damage control effort resulted from a thorough post in the Dallas Morning News published on Monday which calls into question a number of the facts about Davis' past; a past which the candidate and her supporters have touted as part of her inspirational story which suffices for experience in office and is supposedly indicative of her value as a political actor.
Among the allegations in that article are that Davis was 21, not 19, when she filed for a divorce from her first husband and only lived " a few months" in a mobile home which she and her family reference frequently as evidence of her humble origins –- the home is even featured in a campaign ad.
Her second husband, Jeff Davis, helped Davis pay for her tuition to university and Harvard Law School until they also split. Davis had claimed that she and her ex-husband shared custody of their youngest daughter, Dru, but the article reports that a court awarded her ex-husband full custody and also ordered Davis to pay child support. Jeff Davis rasied both Dru and Wendy Davis' child from her first marriage in Texas by himself while the Democratic superstar lived in Boston and attended law school.
RELATED: Dallas Morning News Calls Out Wendy Davis for 'Blurring' Facts About Personal Life
That MSNBC's guests — one a Republican and the other a Democratic strategist — issued tepid defenses of Davis' mild mendacity is not especially surprising. What was disturbing was the aggressive, flippant dismissal of the concerns of those who say the revelations about Davis' career-mindedness at the expense of the integrity of her family and the implication that she used her ex-husband to finance her advancement are prejudiced –- not only against Davis but against all women.
"One of the complaints on the Republican side is that she does not mention — on her website, she does not mention that her ex-husband helped to put her through school," anchor Chris Jansing said before she was interrupted by Democratic strategist Jason Stanford.
"Oh, boo hoo," Stanford said. He added that the fact that both Davis' husband and she took out loans to pay for school and to accuse Davis of being put through law school exclusively by her ex is "really demeaning to women."
"God forbid any of us have our life story subject to our exes having veto power," he added.
Stanford protests too much. Few would find it "demeaning to women" to note that Davis true story is inconsistent with the fiction she has been selling since her unsuccessful filibuster rocketed her to prominence over the entire field of patient Texas Democrats. Secondly, to insist that attending college at the expense – even the partial expense – of her ex-husband while he raised her children who was then awarded custody of those children is "demeaning to women" is to diminish the success of the tens of thousands of women who succeeded on their own terms without letting their families fracture in the process.
But this MSNBC panel does make a good point. There is little value in lending too much credence to the story of one aggrieved individual with a clear axe to grind who is actively seeking to diminish the stature of a potentially central national political figure. Maybe the network and their guests should keep that in mind as they lend undue credence to the claims of just such a figure, Hoboken Mayor Dawn Zimmer, as she lands on cable news program after cable news program insisting that her handwritten diary is evidence of a systematic intimidation campaign by New Jersey Gov. Chris Christie.
Maybe that kind of discretion is simply asking too much of this network and its contributors.
Watch the clip below via MSNBC:
[Photo via screen grab]
— —
> >Follow Noah Rothman (@NoahCRothman) on Twitter
Have a tip we should know? tips@mediaite.com