Born To Spin: Stephanie Cutter Does MSNBC Hit With Bruce Springsteen Concert In Background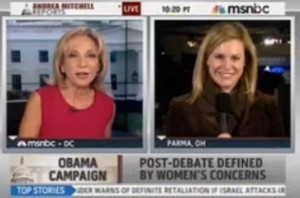 Politics can be a surreal business, as exemplified by Obama For America Deputy Campaign Manager Stephanie Cutter's appearance on MSNBC's Andrea Mitchell Reports Thursday afternoon. While Cutter gamely performed a rather routine media hit with host Andrea Mitchell, a rock 'n roll legend performed a few hundred feet behind her. While it was tough to hear Cutter over the strains of Jersey's own Bruce Springsteen, performing at a campaign event in Parma, Ohio today with former President Bill Clinton, you have to wonder what nearby concert attendees thought of the mash-up. If you think this looked strange on TV, all the people on-site saw was Cutter yelling at a silent camera.
The man they call The Boss, whose endorsement of President Obama has caused our own Andrew Kirell untold anguish, will also be appearing for the Obama/Biden campaign in Ames, Iowa, where Stephanie Cutter will, hopefully, be allowed to relax and enjoy the show.
Cutter's interview with Andrea Mitchell covered the revived interest in women's issues following Mitt Romney's "binders of women" remark at Tuesday night's debate, and Democrats' subsequent exploitation of it. There wasn't much new ground covered, other than Cutter's reaction to an interview with Katherine Fenton, the woman who asked about pay equity at the debate. Fenton told Mitchell, on Wednesday, that she didn't feel her question "was answered by either candidate explicitly."
Cutter nicely disagreed. "I think the result of the debate prove that to be incorrect. and in terms of her question, I think the president was trying to get across that he understood the problems with pay and inequality for women across the country. He's the son of a single mother, he watched his grandmother get bypassed for promotions at her bank because he was a woman. The first bill he signed into law was the Lilly Ledbetter Paycheck Fairness Act. In terms of what he would do for the future, there's a bill pending in Congress that would help close the inequality gap for women."
"The President firmly stands behind that bill," she continued. "That also stands in contrast to Mitt Romney, who doesn't support Lilly Ledbetter. We just learned that. They didn't support Lilly Ledbetter. And he hasn't taken a position on the pending legislate for paycheck fairness. I think that the American people, women across the country, and I think that women at the debate understands it was a real difference in terms of the two candidates, the real choice in this election between who is committed to closing that gap and who is not. We're pleased with the results. I am sorry that she feels that way. I hope we can make it up."
Springsteen, for his part, commented that "This land is your land, this land is my land…"
If this trend catches on, having political flacks duet with musicians, this could make for a great mixtape. I'm holding out for Andrea Saul's mashup of health care talking points with Ted Nugent's Wango Tango.
Here's the clip, from Andrea Mitchell Reports:
Follow Tommy Christopher (@TommyXtopher) on Twitter.
Have a tip we should know? tips@mediaite.com