Boston Globe Journalist Defends Report On Romney-Bain Capital Ties To Rachel Maddow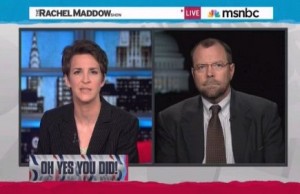 Reporter Christopher Rowland from The Boston Globe appeared on Rachel Maddow's MSNBC show tonight to address a story he co-wrote in The Globe about documents showing that Mitt Romney was still highly involved with Bain Capital three years after he claimed. The Globe is not issuing an apology for the report, as Romney's campaign wanted, and Rowland insisted the focus of the piece was the contradictions in the legal paperwork.
RELATED: Game Remains The Same: FactCheck Slams Boston Globe Flawed Story On Romney's Bain Tenure
Rowland explained that in spite of Romney using a claim that he left Bain in 1999 as a "line of defense" and a major talking point, the documents uncovered show he still had executive ties to Bain in the subsequent three years. He made it clear the report wasn't trying to say he was in the boardroom every single day in the next three years playing an active role in decisions, but the papers show he still had "oversight responsibility."
Maddow asked him if it's commonplace or "legally sound" for someone who has departed a company to still be referred to in legal paperwork as still holding a position of power in the company. Rowland pointed to experts who have said it isn't exactly "kosher." He added that the Romney camp has tried to explain the documents were something akin to "legacy filings," but given that new partnerships were being created at Bain up until 2002, Roland doubted this was the case.
Romney's campaign, of course, has heavily objected to the Globe story and demanded an apology for implying Romney was directly managing things at Bain after 1999, which they argued wasn't the case. Maddow read out the explanation to Rowland and asked him if that was alleged at any point. Rowland explained the report simply wanted to present the facts of the situation.
"Our story was really limited to looking at the discrepancies and the contradictions in the paperwork. So if you look at what the SEC filings show, that Bain on paper was calling Mitt Romney their president and their leader and chief executive after 1999 up until 2002… It's really difficult for most laymen and most people in the political sphere as well to understand how both these things can be true."
Watch the video below, courtesy of MSNBC:
—–
Follow Josh Feldman on Twitter: @feldmaniac
Have a tip we should know? tips@mediaite.com
Josh Feldman - Senior Editor