Boston Man Whose Video Trashed Alex Jones Tells MSNBC: He Runs 'Westboro Baptist Church Of Journalism'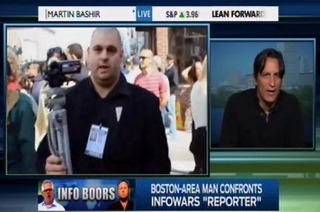 The Boston man behind a viral video featuring him berating a reporter for Alex Jones' conspiracy theory website InfoWars appears on MSNBC with Martin Bashir on Tuesday where he clarified and expanded on his animus towards the website and its employees. The Boston-based video maker said that InfoWars had become the "Westboro Baptist Church of journalism," suggesting the site exists to be provocative and to agitate Americans already grieving in the wake of tragic events.

RELATED: 'You Son Of A B*tch': Furious Boston Man Confronts 'A**hole' Alex Jones Reporter Over 'False Flag' Allegations
Roger Nicholson, the man behind the camera in this viral video hurling a series of angry expletives at an InfoWars camera man who claims to have the images which prove the FBI orchestrated the April 15 attack on the Boston Marathon, joined Bashir on Friday to continue his anti-InfoWars crusade.
Nicholson told Bashir that he was frustrated by the reporter who had been "hijacking" a series of press conferences held by law enforcement in the wake of the Boston attacks.
"I had a dear friend of mine who was at the Marathon when the bomb went off," Nicholson said. "I was very affected by her – what she had experienced."
"I just felt very angry that InfoWars came to my town to start making show material," he added.
"To me, the InfoWars – whatever that show is – has become the Westboro Baptist Church of Journalism," Nicholson declared. "I think these people are un-American, and unpatriotic, and they're hysterics."
Bashir asked if there was anything that Nicholson would like to say to Alex Jones. Nicholson said Jones was the equivalent of the "David Koresh of broadcasting," referring to the leader of the Branch Dividian cult.
Watch the segment below via MSNBC:
> >Follow Noah Rothman (@NoahCRothman) on Twitter
Have a tip we should know? tips@mediaite.com