Boston Mayor Menino Talks Security, Investigation On This Week: Brothers 'Acted Alone'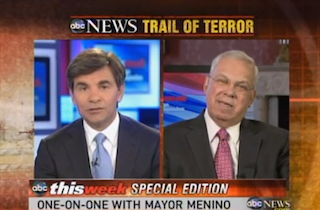 On This Week, George Stephanopoulos spoke with Boston Mayor Thomas Menino, following an undeniably tough week for the city. Menino discussed both the security surrounding the attack at the Boston Marathon as well as the investigation now that the second suspect, Dzhokhar Tsarnaev, has been found. Security must be handled thoroughly, he said, but the officials handled the whole week spectacularly.
Menino stressed and touted the city's resilience before going to respond to more specific questions about Tsarnaev and the case going forward. Based on current information, he said, it appears the brothers "acted alone." Reacting to critics who felt the lockdown was too drastic an approach, Menino insisted it was necessary at the time — because there was too much going on and they needed to ensure the public's safety.
Turning to the topic of the investigation, the photos, Menino said, were the turning point in tracking down who was responsible for the attack. "But until the photos were put in place, I think that's when the investigation really crystallized and the people saw — and the FBI and the Boston police and the state police were able to hone in on certain areas," he asserted. "I hope that the U.S. attorney, Carmen Ortiz, takes him on the federal side and throws the book at him."
He further noted that he's not convinced the brothers were planning any additional attacks, but also added that we don't know definitively. "Did they have more bombs on their possession or near their possession?" Menino asked. "There's some stories that they did."
Stephanopoulos, sticking with the investigation, also asked if there was any additional information about the suspects. "I think the older brother was really the leader, and the younger brother was, like you said, brainwashed by his brother, and he just was a follower," Menino replied.
With that, the pair looked to the future. Asked what he'd learned from the experience, Menino did emphasize that security did ramp up efforts for the marathon, but it's difficult to keep track of so such big crowds. "We have to do a thorough job of making sure that prior to the event, we check every trash can, everything else that's out there," he stated. "It's tough work, but it needs to be done when you have thousands and thousands of people coming to your city."
"But you know something?" the mayor added. "We're not going to stop having the marathon, we're not going to stop having the July 4th celebration. Because we're a city that's stronger than these terrorists want to be."
Take a look, via ABC:

Have a tip we should know? tips@mediaite.com