Boston's Back: Impromptu Watertown Heroes' Parade Punctuated By Profane Verbal Spat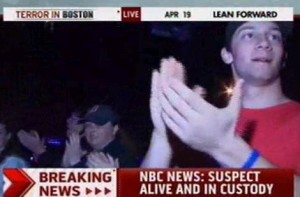 This week needed an uplifting ending, and shortly after the press conference to announce that Boston Marathon bombing suspect Dzhokhar A. Tsarnaev had been taken into custody, the Boston-area residents of Watertown provided one. As a steady stream of police and other emergency vehicles began to depart the scene, bystanders began raucously cheering and applauding, even high-fiving some emergency responders as they drove by.
The crowd continued to grow as the cars slowly cruised away from the scene, and the mixture of defiance and gratitude was palpable. It was a rousing demonstration of the scrappiness that runs through all American veins, and finds itself at wicked concentrated levels in the land of the Green Monster. You get the idea after a few seconds of this clip, but honestly, I could have watched this for hours:
Then, about an hour after that, there was an amusing bookend to that celebration, a refreshing reminder that even in celebration, that scrappiness runs deep. As Lawrence O"Donnell chewed over the events of the day with former ATF agent James Cavanaugh, MSNBC played video of the Watertown streets in the background, and you could still hear residents cheering. Then, a few seconds in, you could hear a brief exchange between two celebrants that ends with the suggestion "F**k you!"
Maybe I'm weird for seeing poetry in those two moments, but what they tell me is that we are who we are, and we'll keep being who we are, no matter who tries to change that.
Have a tip we should know? tips@mediaite.com