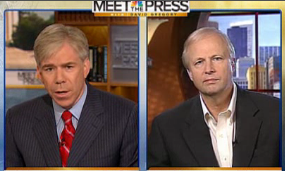 I'm going to hazard a guess that BP's Robert Dudley may find himself part of a very small group when it comes to this assertion. Earlier this morning Dudley, the managing director of BP Oil, told Meet the Press host David Gregory that he thought BP CEO (and Shep Smith's current least favorite person on the planet) Tony Hayward was doing "a fantastic job" and that he should stay in that job. Uh huh. Even David Gregory was non-plussed with the response and opted to "leave it there."
Interestingly, there seemed to be some confusion as to which BP representative would be doing today's show. The weekly email that goes out on Fridays announcing Sunday's guests said it would be Dudley, but earlier this morning MTP producer Betsy Fischer Twittered out that they were expecting Tony Hayward himself. David Gregory mentioned the switch near the end of the segment noting: "We were told by the company last night we'd be speaking to CEO Tony Hayward. Apparently that changed or somebody was wrongly informed." Dudley had no response to that and when we emailed NBC to clear up the confusion they had no comment. Meanwhile, we hear that what actually happened was that a BP representative misspoke when she reconfirmed the guest last night with Meet the Press, and it was a communication error on BP's part. I suspect fairly shortly Hayward will become the most wanted man on television.
Meanwhile, Dudley told Gregory: "We made three attempts to wrestle this beast to the ground by pumping heavy fluids into it. We were unable to overcome the flow. The scientists and engineers from BP and the government reviewed the data and determined the next best option was that we needed to move as fast as possible to a containment operation which we were beginning already, which will contain the flow and produce it to the surface." They are doing this with robots. Nor does Dudley think the industry misled government. Shocking, I know. Worse, Dudley says they "honestly don't know" how much oil is spilling. Video below. You can find the the whole show here.
Visit msnbc.com for breaking news, world news, and news about the economy
Have a tip we should know? tips@mediaite.com