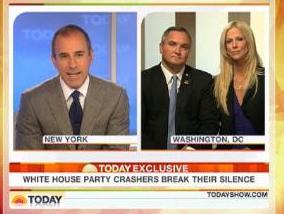 Now that the Salahis have broken their silence and told Matt Lauer on NBC's Today show, essentially, stay tuned for more, the question is: why did they change their mind after first agreeing to appear on Larry King Live?
Gawker thinks they have the answer – that it was part of their Bravo contract – but Bravo is denying it.
Gawker's John Cook looked at the contract for the Real Housewives of New Jersey, a similar Bravo program to the potential show featuring Michaele Salahi, and concluded it may have been a contractual obligation to go on Today:
In addition to obligating participants to make themselves "reasonably available" to market the show, it prevents them from appearing on any "unscripted, reality-based programs" without Bravo's written consent. If the Salahis signed a contract like this, Bravo could have prevented them from giving their exclusive to anyone other than Today.
NBC News denies any Bravo involvement, as does the Housewives network. A Bravo spokesperson tells Mediaite, "It is standard operating procedure to have a contract with anyone before being filmed. As we've already confirmed we've been filming Michaele Salahi along with and handful of other women for The Real Housewives of D.C. About the Gawker story, it is categorically false, Bravo was not involved in this booking."
But there's still the question of why they originally planned to tell their story to Larry King and changed. A CNN spokesperson tells Mediaite producers contacted the Salahis directly over the weekend and confirmed the interview. Then came Mahogany Jones, the couple's publicist. She told the show they had to postpone the interview, but according to the spokesperson, told the show "Larry will get their first interview when they can talk publicly."
That obviously didn't happen. The CNN spokesperson says the show still hasn't been informed if the couple would be canceling the interview, but there has not been a new date set. On a side note, the couple "never asked for money, if they did we would have denied the interview from the outset."
So what does that mean? Well if Bravo really wasn't involved in booking the Today interview, it doesn't mean there wasn't some encouragement, whether by Jones or someone within NBCU, that giving Lauer the exclusive first interview might help the couple's chances of becoming Real Housewives stars. But the real way we'll find out if there's any contract is if they do, eventually, show up on CNN or another network. If not, more questions will be raised.
—–
» Follow Steve Krakauer on Twitter
Have a tip we should know? tips@mediaite.com