Bravo's Andy Cohen Tells CNN About The Time He Was 'Freeballing' With Cybill Shepherd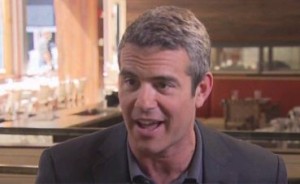 Bravo executive and TV show host Andy Cohen sat down with Howard Kurtz on CNN's Reliable Sources today to talk about a part of his career that stands in stark contrast to his reality show-loving self today: journalism. Yes, that Andy Cohen used to be a producer at CBS News working on serious news stories before hitching his wagon to Bravo. He opened up about the ten years he spent at CBS as well as some fun anecdotes about his time at both the news network and Bravo, including some particularly salacious celebrity stories.
RELATED: Bravo's Andy Cohen Gets Rachel Maddow To Talk Olbermann, Hottest MSNBC Anchors
Kurtz told Cohen that after reading his new book Most Talkative, he didn't get the sense that Cohen was ever really that interested in hard news. He brought up an anecdote from the book where Cohen was with Tammy Faye Baker in Palm Springs when he got a call from his bosses asking him to cover storms in California, and he actually declined. Cohen said that every time he heard his beeper going off (remember, this was the 90s), he "felt like it was an imposition on my person."
In one part of his book, Cohen refers to himself as a "lying weasel coward." This was only meant, according to Cohen, in reference to an instance when he was sitting down in the Oprah Winfrey audience and he got a call from CBS about a bomb going off in Oklahoma City. Well, Cohen didn't exactly have the best response to that, as he admitted in retrospect.
"I'm not proud to say this, okay, but my first reaction was 'It doesn't sound like a big deal.' And then, Bill Owens, who is now the senior guy at 60 Minutes, said to me, 'Andy, I'm going to dial back. Take your Oprah, you know, blinders off, here's what's happening.'"
He said he needed time to process what had happened before he was able to accept it and head to Oklahoma City to cover it.
Kurtz immediately fast-forwarded to Cohen's Bravo career, and asked him to share a "salacious" story about Cybill Shepherd trying to pitch a show to the network. Cohen said Shepherd, a former actress, was pitching a docuseries about her and her "crazy" best friend. He recalls that during a meeting with the two women, they decided it was so hot in the room they needed to take their shirts off. Cohen joked that at the time, it didn't seem like "their GayDars were pinging," but he took off his shirt as well.
Then the ladies decided they should all take their pants off. Cohen told Kurtz that he was going commando at the time and didn't really feel comfortable doing that. Ultimately, he didn't pick up their show.
RELATED: Bravo's Andy Cohen Is A Drunk Megalomaniac On SNL
Finally, Kurtz asked Cohen about all the Real Housewives programming he's greenlit, and how he was initially nervous at how the stars of the first installment in the franchise, The Real Housewives of Orange County, would receive it. Cohen was surprised to hear that it got a positive reception from the women.
Watch the video below, courtesy of CNN:
Have a tip we should know? [email protected]
Josh Feldman - Senior Editor