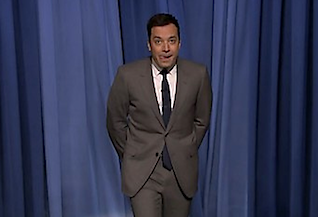 Monday night, February 17th was billed at Jimmy Fallon's big debut at 11:30pm as host of the Tonight Show. But due to NBC's Presidents' Day Olympics coverage followed by the late local news, Fallon did not actually make it on the air until after midnight. But, that being said, he still managed to pull in the some of the best overnight Tonight Show ratings ever, tying Conan O'Brien's 2009 debut and topping Jay Leno's return in 2010.
Early numbers from Nielsen Media Research show Fallon's debut pulled in a 7.1 rating and 20 share, trailing Leno's February 6th finale (9.2/22) as well as Leno's final show on May 29th, 2009 before O'Brien took over (8.8/20). However, it was well above what Fallon got for his final episode of Late Night on February 7th (4.8/13).
Fallon certainly pulled out all the stops on his first night as Tonight Show host, from a cameo-filled desk bit to his "Evolution of Hip-Hop Dancing" with Will Smith. The rooftop performance by U2 couldn't have hurt either.
Preliminary total viewer estimates won't be released until later today, but keep an eye out here for that update soon, including how he fared against David Letterman and Jimmy Kimmel.
RELATED: Jimmy Fallon's Tonight Show Debut Kills, Especially on YouTube
UPDATE (2:15pm ET): According to Nielsen's "live plus same day" ratings, Fallon's Tonight Show debut averaged 11.314 million viewers, making it by far the most-watched hour he has ever hosted. That number still slightly trails Leno's final show before Conan O'Brien took over, which had 11.901 million total viewers and is far below the 14.637 million viewers who watched Leno's last show on February 6th of this year.
However, Fallon's 3.8 rating in the coveted 18-49 demographic ties what Leno had for his finale this month. Meanwhile, O'Brien had a stronger 4.4 rating in the demo when his final Tonight Show aired in 2010.
Despite his post-midnight start, Fallon outdid his primary late night competitors by leaps and bounds on Monday night. David Letterman had a 0.5 rating in the 18-49 demo and 2.411 million total viewers overall while Jimmy Kimmel had a 0.4 in the demo and 2.106 million total viewers. Both of those shows began at their usual 11:35pm ET.
Comedy Central's The Daily Show with Jon Stewart and The Colbert Report, which typically air Monday through Thursday nights at 11 and 11:30pm respectively, did Fallon a favor by taking Presidents' Day off. Colbert even went one step further by showing up to dump 10,000 pennies in Fallon's lap.
[photo via screengrab]
— —
>> Follow Matt Wilstein (@TheMattWilstein) on Twitter
Have a tip we should know? tips@mediaite.com