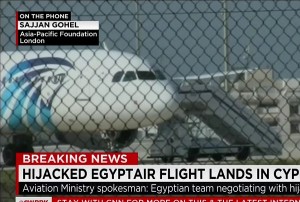 An EgyptAir plane was hijacked on its way to Cairo and diverted to Larnaca airport in Cyprus. Although the majority of passengers and crew have been released, reports indicate that there are still seven people on board. CNN has reported:
The flight was an internal flight heading from Burj El Arab airport in the northern Egyptian city of Alexandria to the capital Cairo, Ihab Raslan, spokesman for the Egyptian ministry of civil aviation, tells CNN.

Negotiations with the hijacker have resulted in the release of all passengers, except for seven crew and four foreigners, a statement from the Egyptian ministry of civil aviation said.
The Airbus 320 EgyptAir flight, designated MS181, has at least 81 people on board, according to the ministry.

Pilot Omar El Gamal has reported a threat from a passenger claiming to have an explosive belt, who forced the plane to land in Cyprus, the statement added.
Currently, the number of hijackers and/or their demands are not known. We will update this story as it develops.
UPDATE — 7:45 a.m. ET: Shortly after 2:00 p.m. local time, cameras caught a number of the passengers escaping to safety from the plane that was parked on the tarmac. One person, perhaps a crew member, actually escaped from the plane through the cockpit door, maneuvering down the nose of the plane onto the ground safely.
The Ministry of Foreign Affairs of Cyprus has issued a number of statements via Twitter, including the name of the suspected hijacker:
The #hijacker of #MS181 is Seif Eldin Mustafa. The situation is still ongoing.

— Cyprus MFA (@CyprusMFA) March 29, 2016
At 7:41 a.m. ET, Cyprus MFA returned to confirm that the hijacker was apprehended, as well:
Its over. The #hijacker arrested. #LarnacaAirport # Egyptair

— Cyprus MFA (@CyprusMFA) March 29, 2016
Watch the above clip from CNN's New Day.
Have a tip we should know? tips@mediaite.com