Police Open Fire on Suspected Bomber Outside Fox Baltimore Station (UPDATED)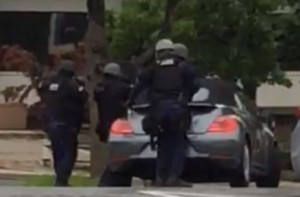 After a suspected bomber walked out of Baltimore Fox affiliate station Fox45 and ignored instructions, police opened fire.
Station employee Casey Clark Jr. livestreamed the entire event on Periscope. Police could be heard shouting "Get on the ground!" several times, but the man ignored them. One officer could be heard shouting "Watch your crossfire," after which shooting began.
The suspect remained alive and on the ground, while the police dispatched a robot to examine him. He had claimed to have a bomb on his person, and police confirmed that he had wires in his pocket.
Robot trying to get suspect to show his hands. pic.twitter.com/ekDM4i3qGm

— Shelley Orman (@ShelleyOFox45) April 28, 2016
After the robot examined the suspect, police approached him and removed his clothing. A local photographer, who witnessed the scene, said CPR had been administered to the suspect.
Police have removed man from street – after robot examined him, then officers removed his clothes pic.twitter.com/YwQWJlVSXx

— Shelley Orman (@ShelleyOFox45) April 28, 2016

Baltimore PD spokesman T.J. Smith said during a 3:30 PM press conference that the suspect is still alive and conscious, and is still ignoring police orders transmitted via robot to remove his hands from his pockets. Despite initial reports that police may have been using nonlethal ammunition like bean bags, Smith said that the police sniper used normal ammunition.
Fox45 was evacuated Thursday afternoon after an individual made a threat against the station.
FOX45 evacuated after reported threat, vehicle fire#LiveonNews9
Click here for the STORY: https://t.co/gi9r08XHmy pic.twitter.com/BDzUfoyeAI

— WTOV NEWS9 (@WTOV9) April 28, 2016
Fox45 reports that as staffers were evacuated, they saw a man they didn't recognize wearing a bulky jacket. A security guard told them that a suspect threatened to "blow up" the building. Meanwhile, CNN's Anne Claire Stapleton reports that Baltimore police received a call about a man wearing an explosive vest.
#CNN: @BaltimorePolice received call about man w/ possible explosive vest in lobby of tv station #fox45. Situation ongoing

— AnneClaire Stapleton (@AnneClaireCNN) April 28, 2016
Fire crews were also called to extinguish a fire "which appeared to have been set in the gas tank of a vehicle parked in the station lot."
Witnesses say the suspected bomber is wearing a surgical mask and sunglasses, and either a panda suit or a hedgehog outfit. A security guard also told multiple outlets that the man walked in and wanted to give them a flash drive full of conspiracy theory videos.
Details are still scarce, but this piece will be updated as more come to light.
UPDATE — 5:50 p.m. ET: According to local Fox45 reporter Shelley Orman, the "bomb" was in fact assembled out of candy bars, tin foil, and wires and other harmless components. The suspect has been moved to a hospital, where he is in stable condition.
BPD: suspect's "bomb" was candy bars wrapped in foil connected with wires & some sort of motherboard looks like it's from fire extinguisher

— Shelley Orman (@ShelleyOFox45) April 28, 2016
[Image via screengrab]
——
>>Follow Alex Griswold (@HashtagGriswold) on Twitter
Have a tip we should know? tips@mediaite.com