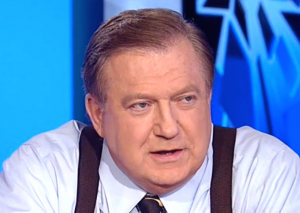 Bob Beckel is no longer a Fox News employee, a network spokesperson confirmed to Mediaite on Thursday afternoon.
Best-known as the salty liberal panelist on Fox's hit midday talk show The Five, Beckel has been off-the-air since February 16. His absence was surrounded by mystery for several months until the network confirmed that he had undergone back surgery and, later, that he had also sought rehabilitation therapy for addiction to prescription pain medication.
Last we'd heard, Beckel's employment status with Fox remained unchanged, but today, multiple sources tell us, the hosts and staff of The Five were informed of his permanent departure. Fox News tells Mediaite this was an "amicable" split. [See update below.]
-RELATED: The Good, the Bad, and the Ridiculous: A Tribute to The Five's Bob Beckel
Beckel had been with Fox News since first signing a contributor contract in 2000, and then officially joining as a regular co-host of The Five in July 2011. Most of his non-hosting appearances occurred as a panelist on Hannity or as the "Democratic strategist" half of panel discussions during Fox's daytime news broadcasts.
While often representing the lone "liberal" voice at the desk, Beckel has stirred up his fair share of controversy: When he called for an end to visas for students from Muslim countries following the Boston Marathon bombings; when he referred to "the Chinamen" as the "single biggest threat" to United States security; and when he repeatedly cursed at or gave the middle finger to his co-hosts on live television.
UPDATE — 2:35 p.m. ET: Fox News executive VP of programming Bill Shine issued the following blunt statement on Beckel's departure, first printed over at Politico:
"We tried to work with Bob for months, but we couldn't hold The Five hostage to one man's personal issues. He took tremendous advantage of our generosity, empathy and goodwill and we simply came to the end of the road with him."
UPDATE — 6:28 p.m. ET: Beckel himself has responded, and he is not pleased with how Shine spoke of his departure:
I am no longer on The Five or with Fox. Fox statement today baffles me. I will respond in the appropriate forum. I will miss you all.

— Robert G Beckel (@RobertGBeckel) June 25, 2015
UPDATE — 8:35 p.m. ET: Beckel tweeted out hours later he couldn't understand the "anger" in the Fox statement:
I just can't understand the anger in Fox statement. I was healing from major back surgery i could not walk, I took no advantage I got well

— Robert G Beckel (@RobertGBeckel) June 26, 2015
Fox has been good to especially when I was healing. I guess I'll never understand their anger It is all so very sad

— Robert G Beckel (@RobertGBeckel) June 26, 2015
— —
>> Follow Andrew Kirell (@AndrewKirell) on Twitter
Have a tip we should know? tips@mediaite.com