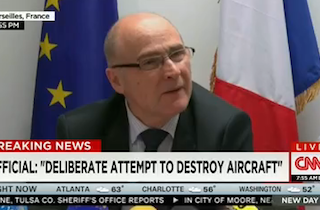 Marseille Public Prosecutor Brice Robin informed the victims' families and then the press Thursday morning that the co-pilot of the Germanwings flight 4U 9525 deliberately crashed the plane in the Alps of Southern France on Tuesday.
"Our interpretation, as of now, as investigators…the most plausible explanation is that the co-pilot, based on some kind of voluntary abstention, refused to open the cabin door," Robin said. "He's the one who pressed the button that allowed the plane to begin descending."
The flight went down just after reaching cruising altitude on the way from Barcelona to Dusseldorf. The New York Times reported last night that the black box recording indicated that the pilot had been locked out of, and desperately tried to reenter, the cockpit.
Robin said the co-pilot, Andreas Lubitz, who remained in the cockpit, intentionally caused the descent of the plane after the first pilot left the cockpit, presumably to use the restroom.
"He was alone at the helm of this plane," Robin said. "He was manipulating the flight monitoring system to manage the descent of the plane. All of these actions were completely voluntary."
"We hear the pilot calling asking for reentry into the cockpit. The co-pilot did not respond. He's knocking, he's asking to be let in. Zero response from the co-pilot."
The prosecutor said that breathing can be heard until the point of impact, indicating he was alive. He did not send any distress signal. Robin did not use the word "suicide," as he could speak confidently about Lubitz's motives.
Lubitz was a German national with no known prior connection to terrorist groups, Robin said. "But at this stage, nothing indicates a terrorist attack," he added.
Watch the opening minutes of the press conference below, via MSNBC:
[Image via screengrab]
——
>> Follow Evan McMurry (@evanmcmurry) on Twitter
Have a tip we should know? tips@mediaite.com