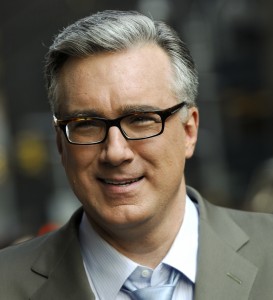 Keith Olbermann has just ended his Friday night episode of Countdown–and apparently ended his run as host of the show on MSNBC. The host thanked his Countdown staff and team at MSNBC, read a poem and bid viewers farewell, tossing his papers toward the camera for the "final time," and saying "Good night, and good luck."
Olbermann, who's been at MSNBC for eight years, expressed his "boundless gratitude" to Countdown viewers, saying they would always be in his heart, thanking them for every letter, handshake, and email.

MSNBC released a statement moments ago reading, in full:
"MSNBC and Keith Olbermann have ended their contract. The last broadcast of "Countdown with Keith Olbermann" will be this evening. MSNBC thanks Keith for his integral role in MSNBC's success and we wish him well in his future endeavors."
Watch it here, from MSNBC:
Oddly, the final Countdown and departure of Olbermann is not even mentioned as The Rachel Maddow Show begins.
Starting Monday, Lawrence O'Donnell takes the 8 p.m. hour, Ed Schultz moves to 10 p.m., and Rachel Maddow stays at 9.
Here's the second statement from MSNBC, making no further mention of Keith Olbermann:
NEW YORK – January 21, 2011 – Starting Monday, January 24, "The Last Word with Lawrence O'Donnell" will move to 8 p.m. ET/PT and "The Ed Show," hosted by Ed Schultz, will move to 10 p.m. ET/PT on MSNBC. The announcement was made today by Phil Griffin, President of MSNBC. "The Rachel Maddow Show" will continue to air live at 9 p.m. ET/PT.

Since its debut in October 2010 at 10 p.m.ET, "The Last Word with Lawrence O'Donnell" has been a strong addition to the MSNBC primetime line-up. In the forth quarter of 2010, the show's first full quarter on the air, "The Last Word" ranked #2 among A25-54 and total viewers beating CNN's "Anderson Cooper 360" in all key demos and had MSNBC's strongest A25-54 performance in the 10 p.m. time period since the first quarter of 2009.

"The Ed Show" launched in April 2009 at 6 p.m. ET on MSNBC. 2010 marked the best total viewer performance in the 6 p.m. ET hour ever for MSNBC, with "The Ed Show" ranked #2 in both A25-54 and total viewers for the full year. "The Ed Show" averaged 643,000 viewers in 2010 and 158,000 among viewers 25-54, while CNN's "Situation Room" averaged 542,000 total viewers and 149,000 in the 25-54 demographic. Ed was up 8% in A25-54 and up 20% in total viewers, while CNN has dropped –28% in A25-54 and –29% in total viewers.

Also starting Monday, Cenk Uygur, MSNBC contributor and host of the popular web show "The Young Turks," will be filling in as host of the 6 p.m ET hour.
Have a tip we should know? [email protected]