Michele Bachmann Ends Her Presidential Campaign: 'I Have Decided To Stand Aside'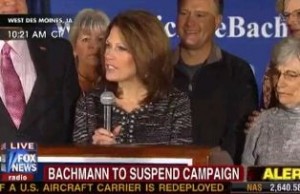 On the heels of her distant sixth-place finish in the Iowa Caucuses, and the announcement that she had canceled a planned visit to South Carolina, Minnesota Rep. Michele Bachmann held a press conference Wednesday morning to announce that she is ending her presidential campaign. With the likely end of Rick Perry's run, Bachmann's move presents an opportunity for surging Rick Santorum to consolidate the social conservative vote.
Bachmann opened her press conference with some of her trademark historical perspective, telling reporters that the Pilgrams had been involved in "watch(ing) over our Republic," then referenced her work in not defeating Obamacare, which she described as a threat to the survival of the Republic. Bachmann said that people all over America agreed with her that President Obama's "socialist policies" must be stopped (one of four mentions of "socialism" in her speech, and 14 references to "Obama" or "Obamacare"), a statement that was somewhat contradicted by her next announcement.
"Last night, the people of Iowa spoke with a very clear voice," Bachmann said, "so I have decided to stand aside."
Bachmann also urged supporters to "rally around" the eventual GOP nominee.
Bachmann's exit from the race is emblemmatic of the whiplash-inducing nature of this year's Republican presidential primary race. Bachmann received just 5% of the Iowa Caucus vote, after she won the Ames Iowa Straw Poll in August with 28%.
While Perry and Bachmann only account for around 13% of the vote in national polls, their exit from the race boosts Santorum's chances to actually win the nomination, which could help him wick some votes away from Newt Gingrich, who was previously seen as the most viable anti-Romney candidate. It's probably too late for Santorum to win in New Hampshire, but a strong surge there could attract votes for him in South Carolina and Florida, and attract much-needed campaign cash.
Here's the video of Bachmann's announcement via Fox News:
Have a tip we should know? tips@mediaite.com