Lou Dobbs Leaving CNN Immediately To "Engage In Constructive Problem Solving" (VIDEO)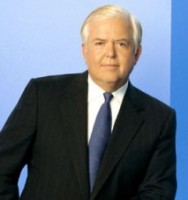 In what sounded like the beginning of a campaign stump speech, Lou Dobbs announced on his program tonight on CNN that he was leaving the network, effective immediately.
He said he would "engage in constructive problem solving," and will "pursue new opportunities – at this point I'm considering a number of options and directions."
"This will be my last broadcast here on CNN where I've worked for most of the last 30 years," he said. Later: "I will be eternally grateful to CNN, to Ted Turner, and all of my colleague and friends."
The New York Times broke the story about Dobbs earlier this evening.
More from Dobbs' comments:
Over the past six months its become increasingly clear that strong winds have changed and begun buffetting this country and affecting all of us. Some leaders in media, politics and business have been urging me to go beyond my role here and to engage in constructive problem solving as well as contribute positively to a better understanding of the great issues of our day.
Dobbs has been rumored to be a possible hire at Fox Business Network. Update 2: An FNC/FBN spokesperson tells Mediaite: "We have not had any discussions with Lou Dobbs for Fox News or Fox Business."
Dobbs joined CNN when it launched in 1980, as an anchor focusing on business. But more recently he has become a lightning rod with some of his opinions, especially as CNN continues its focus on news, rather than opinion journalism. Dobbs left the network once before, in 2000 to join Space.com, but was back the following year.
CNN declined to comment about Dobbs to Mediaite.
> Update: Brian Stelter tweets: "NYT learns that Lou Dobbs' resignation is effective immediately; tonight's program will be his last on CNN."
> Update at 7:45pmET: CNN released this statement from CNN/U.S. President Jon Klein:
Lou Dobbs is a valued founding member of the CNN family. For decades, Lou fearlessly and tirelessly pursued some of the most important and complex stories of our time, often well ahead of the pack. All of us will miss his appetite for big ideas, the megawatt smile and larger than life presence he brought to our newsroom, and we're grateful to have known and worked with him over the years. With characteristic forthrightness, Lou has now decided to carry the banner of advocacy journalism elsewhere. We respect his decision and wish him, Debi, and his family the very best.
We hear CNN will address who takes over the 7pmET slot tomorrow. Dobbs signed off saying, "As they say, I'll see you next on the radio."
Note: This story has been edited as news breaks.
VIDEO:


—–
» Follow Steve Krakauer on Twitter
Have a tip we should know? tips@mediaite.com