Paul Ryan Tells GOP That His Focus Will be on the House, Not Trump, This Next Month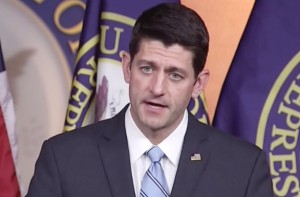 According to senior POLITICO writer Jake Sherman, House Speaker Paul Ryan has given his Republican colleagues in the House a bit of news regarding his plans for how to spend the remaining days until the election.
BREAKING– @SpeakerRyan tells house republicans he won't defend trump and will focus the next 29 days on keeping the house majority.

— Jake Sherman (@JakeSherman) October 10, 2016
Sherman notes that from Ryan directly, the House Speaker "won't defend Trump," in light of the controversial audio leak from the Washington Post Friday. Much has been made about the litany of ranking Republican leaders who have since withdrawn their endorsements from the GOP nominee, including Utah's Jason Chaffetz and Kelly Ayotte of New Hampshire. Heading into the November 8 election, Republicans maintain a lead in both the Senate and House of Representatives, and many have worried that Trump's controversies at the top of the presidential ticket could cost the party in key down-ballot races.
Speaker Ryan's intentions were shared with GOP lawmakers minutes ago during a conference call with Republican house members. CNN's Manu Raju reported that they plan to spend "all their energy for the next month," on maintaining the crucial majority in the House. Ryan stressed he would not defend Trump, his actions, or his campaign for the remaining month in the race, hoping that they will still have that key "check" on a potential Hillary Clinton administration.
The House Speaker however was careful not to fully withdraw his endorsement from his party's standard bearer.
BREAKING: @SpeakerRyan tells House Rs he is NOT rescinding @realDonaldTrump endorsement for now, but won't campaign with him either

— Scott Wong (@scottwongDC) October 10, 2016
This information is developing and we will update as more is known.
Have a tip we should know? [email protected]