Live Bomb Found, Detonated Near New Jersey Train Station, Shutting Down Transit Service From NYC (UPDATED)
Editor' Note: The newest updates to this story — from 1:19 A.M. EST Monday — appear at the bottom of the page.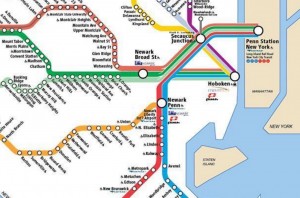 New Jersey Transit service has been shut down temporarily out of New York City tonight. The Mayor of Elizabeth, NJ has reportedly confirmed that a trash can was found with explosive materials near the town's main train station this evening.
BREAKING: All NJ-bound train traffic halted at NYC Penn station due to police activity at Eliz, NJ, according to official NYC city alerts.

— Josh Marshall (@joshtpm) September 19, 2016
NEW JERSEY: Elizabeth Mayor says a bag with wires and pipes was found in a trash can near NJT Station, FBI on scene. https://t.co/q60LGGS52o

— KolHaolam (@KolHaolam) September 19, 2016
The Mayor of Elizabeth Chris Bollwage spoke with reporters moments ago saying that this evening two men were walking at the corner of E. Broad Street and Julian Place — the closest intersection to the Elizabeth train station — when they found a package in a trash can which later revealed wires. Mayor Bollwage said that a drone investigation of the package revealed "…it could be suspicious, and it could be a live bomb."
Possible "live bomb" found by the #Elizabeth NJ train station
More details soon pic.twitter.com/oWwKbeDksm

— Andy Mai (@MaiAndy) September 19, 2016
According to the New York Daily News, a law enforcement source said that, "…authorities discovered three pipe bombs and two smaller devices at a train station in Elizabeth," prompting a shut down of service on New Jersey Transit's Northeast Corridor service. Elizabeth is one of the main stations on the stretch of service that connects New York's Penn Station with Trenton, the New Jersey state capital.
The New Jersey Transit has issued the following update: "Northeast Corridor and North Jersey Coastline rail service is temporarily suspended between Newark Liberty International Airport and Elizabeth stations due to police activity near Elizabeth. NEC rail tickets and passes are being cross-honored by PATH and NJT and private carrier buses."
#NEC rail service is temporarily suspended between Newark Airport and Elizabeth stations due to police activity near Elizabeth.

— NJ TRANSIT (@NJTRANSIT) September 19, 2016
The news comes just hours after a stash of weapons were found in a vehicle on the Belt Parkway in Brooklyn, prompting all five people in the car to be apprehended. The vehicle was traveling east around 9:30 p.m. local time near the Verrazano Bridge with a "possible connection" to the blast Saturday night in Manhattan that injured dozens.
This information is breaking and we will update accordingly.
UPDATE: Monday September, 19 1:19 A.M. EST: Shortly after Mayor Bollwage confirmed that the FBI was continuing its live investigation at the Elizabeth train station, NBC News' Tom Winter said that a "sound of an explosion" was heard:
FBI Bomb Squad is on scene and continuing the investigation at the train station in Midtown Elizabeth. pic.twitter.com/qvmzsgisjC

— Chris Bollwage (@MayorBollwage) September 19, 2016
NBC News' @Miguelnbc reports that there was the sound of an explosion near the Elizabeth NJ Transit station and he smells gun powder.

— Tom Winter (@Tom_Winter) September 19, 2016
Thunderous explosion that seemed to startle many police + sent others running heard in Elizabeth, NJ train station pic.twitter.com/o0ilhsY7BW

— Miguel Almaguer (@Miguelnbc) September 19, 2016
UPDATED: 6:47 A.M. EST: A bomb robot sent to deal with the package detonated one of the explosives, though it was not a controlled detonation. Five devices were found inside the backpack, according to NBC News's Miguel Almaguer.
After detonation in Elizabeth, NJ …smell of gun powder in air. Police have not confirmed if this was controlled explosion. Bomb squad here

— Miguel Almaguer (@Miguelnbc) September 19, 2016
Mayors spokesman confirms controlled explosion in Elizabeth,NJ. Says there may be more "booms" as "multiple" devices are in single backpack.

— Miguel Almaguer (@Miguelnbc) September 19, 2016
Mayor of Elizabeth, NJ now says this was NOT a controlled explosion. Says this "was an explosive device" and "could have hurt a lot of ppl"

— Miguel Almaguer (@Miguelnbc) September 19, 2016
Elizabeth, NJ mayor says 5 devices were left in a single backpack. Had "bomb" went of "it would have certainly killed/injured many".

— Miguel Almaguer (@Miguelnbc) September 19, 2016
WATCH: Video shows device explode while being examined by police robot in Elizabeth, NJ, this morning – @miguelnbc https://t.co/ZgfD8LK0ne

— NBC Nightly News (@NBCNightlyNews) September 19, 2016
Have a tip we should know? tips@mediaite.com