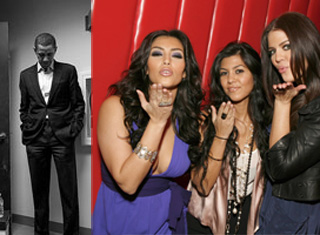 Ladies and gentlemen, like the great earthquakes that shaped our planet's continents thousands of years ago, our political landscape has now been irrevocably altered. Everything is different. Everything has changed.
In an interview calling to mind the recently infamous comments of Anita Perry and Jackie O herself, a new interview with Michelle Obama has forever altered how we as a nation look upon her husband.
Apparently he doesn't like the Kardashians.
The startling admission comes in a interview the First Lady did with iVillage on her family's television viewing habits. After stating that she doesn't let her daughters watch non-educational programming during weekdays (as long as Sasha still gets to watch her favorite show, Breaking Bad, on Sundays, right?), Michelle says the unthinkable.
From iVillage:
"Like most moms, Mrs. Obama regulates television and screen time. The first daughters are not allowed to watch television or be on the computer during the week unless it is related to schoolwork and they can watch limited television on weekends. Are any shows off limits? 'Barack really thinks some of the Kardashian – when they watch that stuff – he doesn't like that as much,' said the First Lady, 'but I sort of feel like if we're talking about it, and I'm more concerned with how they take it in – what did you learn when you watched that. And if they're learning the right lessons, like, that was crazy, then I'm like, okay.'"
What is wrong with you, Mr. President?
Not only does this display an unforgivable lack of good taste (I mean, did he even see the episode where Kim receives another round of Botox injections after Kris says she has lines around her eyes and then her face turns purple?* Did he?!), but also that the President doesn't believe in good America craftsmanship. I mean, as we all know, the Kardashian sisters were created in a lab to be the perfect American super-soldiers in the war against not being famous. Does Mr. Obama even care about the American scientists who designed them? I mean, I have it from a good source that the scientist who headed the team that designed Kim's measurements actually went insane due to stress. And that man has a family! What do you have to say to them, No-Bama?!
This President has done a number of things that have made me angry during his time in office. He's refused to close Gitmo. He's yet to repeal the Bush tax cuts. But those are nothing compared to this. This is a slap in the face to this entire nation.
God save you, sir. And God save America.
*Actual episode plot description courtesy of Wikipedia.
(h/t HuffPo)
Have a tip we should know? tips@mediaite.com