On the heels (but not too closely on the heels) of Monday's call by GLAAD that CNN analyst Roland Martin be fired for tweets he made during Sunday's Super Bowl, the network has announced that Martin has been suspended. Martin initially explained the tweets, which GLAAD said encouraged violence against gay people, as tweaking soccer fans, but the network disagrees. In a statement released minutes ago, CNN says "Roland Martin's tweets were regrettable and offensive. Language that demeans is inconsistent with the values and culture of our organization, and is not tolerated. We have been giving careful consideration to this matter, and Roland will not be appearing on our air for the time being."
Martin, who spent Sunday evening live-Tweeting the game and several commercials, made a remark about an H&M commercial for David Beckham's line of men's underwear. The ad, for those who missed it, features close-ups of the soccer player clad only in a pair of briefs.
"If a dude at your Super Bowl party is hyped about David Beckham's H&M underwear ad," Martin Tweeted, "smack the ish out of him!"
Martin insisted he was taking a jab at soccer fans, not the gay community. For your reference, here's his original comment, including the Tweets that came directly before and after: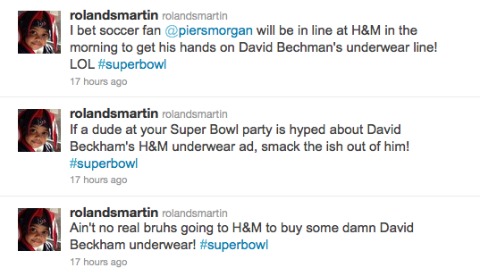 On Monday, Martin published a statement on the matter on his website:
Fam, let me address the issue that some in the LGBT community have raised regarding some of my Super Bowl tweets yesterday.

I made several cracks about soccer as I do all the time. I was not referring to sexuality directly or indirectly regarding the David Beckham ad, and I'm sorry folks took it otherwise.

It was meant to be a deliberately over the top and sarcastic crack about soccer; I do not advocate violence of any kind against anyone gay, or not. As anyone who follows me on Twitter knows, anytime soccer comes up during football season it's another chance for me to take a playful shot at soccer, nothing more.
At this time, the duration of Martin's suspension is unknown.
Additional reporting by Alex Alvarez.
Have a tip we should know? tips@mediaite.com