Bret Baier, Fox & Friends Hosts: Obamacare Shifting Political Winds Towards GOP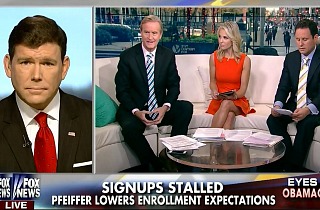 The hosts of Fox & Friends and Special Report anchor Bret Baier identified a "tough political spot" for Democrats in the problematic implementation of the Affordable Care Act. Baier noted that Democratic officeholders are currently abandoning the White House and introducing plans that would mitigate the negative impact of the ACA while political analysts are projecting that Democrats up for election on Tuesday are slipping in the polls over this issue.

Baier began by identifying new problems with the implementation of the law that have only been uncovered over the weekend. For instance, Baier reported that the paper and telephone applications processes set up for applicants to sign up for Obamacare were merely a "delaying tactic" because any information collected still has to be uploaded into the faulty health insurance exchanges website.
"This is why this story probably has a lot of legs beyond just a few days, even a couple of weeks," Baier said.
RELATED: Peggy Noonan on ABC: Tea Party Aims to 'Topple' GOP, Not Take it Over
Brian Kilmeade said that former White House advisor and CNN host Van Jones tore into Obama for claiming that no one would lose their health insurance when the ACA was implemented. Baier added that Sen. Mary Landrieu (D-LA), a vulnerable Democrat facing reelection next year, is introducing legislation which would ensure no one loses their coverage as a result of the ACA.
"These stories are non-stop," Baier added after identifying a story in Monday's Wall Street Journal which chronicled the trials of a stage IV cancer patient who lost their doctor as a result of the ACA. "These stories, one after another, are probably going to keep popping up," he continued.
"Democratic senators in red states like Mark Begich (D-AK), Mary Landrieu, Kay Hagen (D-NC), they are beginning to run for the hills," Kilmeade observed. "Obamacare could cost them."
"It's a tough political spot to be in," Baier agreed. He added that Virginia's Republican Attorney General Ken Cuccinelli has closed the gap in the polls ahead of Tuesday's gubernatorial election in Virginia, according to some political analysts, as a result of the faulty implementation of the ACA.
"Remember that Virginia was directly affected by the government shutdown," Baier concluded. "That kind of opened the lead for [Terry] McAuliffe, the Democrat, but it may have closed with Obamacare in the last couple of days."
Watch the clip below via Fox News Channel:
[Photo via screen grab ]
— —
> >Follow Noah Rothman (@NoahCRothman) on Twitter
Have a tip we should know? [email protected]