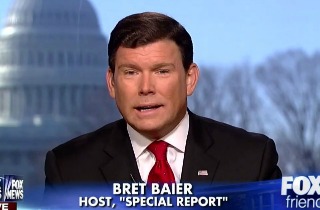 With the crisis in Ukraine escalating over the weekend, and Russian-backed Ukrainian President Viktor Yanukovich being ousted by that country's parliament, a Gallup poll released recently revealed that a majority Americans believe President Barack Obama is not respected in the world. Special Report host Bret Baier noted on Fox & Friends that this revelation comes at a sensitive time when that crisis in Eastern Europe has resulted in a "power vacuum" that either Russia or the West will fill.

Gallup found that only 41 percent of Americans believe Obama is respected in the world while 53 percent told the pollster they think Obama is not respected by his fellow world leaners. Baier said that the National Security Agency leaks and the failure to enforce his own "red line" in Syria have contributed to this condition.
RELATED: Ukraine Parliament Impeaches President Yanukovych
Brian Kilmeade said that he sees an "opportunity" in the collapse of the Russian-backed government in Ukraine. He noted that Russia provides that country and much of Europe with natural gas via a Ukrainian pipeline.
"We have natural gas and the Ukrainians need natural gas," Kilmeade observed. "So, we could start, maybe, brokering a deal and help fill the gap that the Russians had in writing a check for their debt."
"This is a really important time," Baier said. "As you know, the power vacuum, when it is someplace else it changes quickly, dynamically, and Ukraine is a situation."
"The question is, how fast will Russia move in with a heavy hand – take an active role there," he concluded.
Watch the clip below via Fox News Channel:
[Photo via screen grab ]
— —
> >Follow Noah Rothman (@NoahCRothman) on Twitter
Have a tip we should know? tips@mediaite.com