Bret Baier: Negative Consequences of Obama's Chaotic Syria Policy Already Happening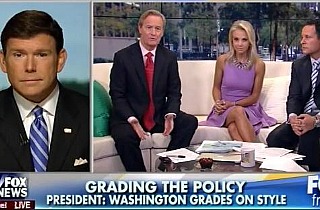 Fox News Channel anchor Bret Baier appeared on Fox & Friends on Monday where he was asked to respond to President Barack Obama who said on a Sunday morning news program that his Syria policy was being graded harshly by the media only for lacking "style points." Baier detailed the ways in which the world was already reacting to Obama's scattered focus on Syria in ways that not ideal for the United States.

Baier began by noting that foreign policy experts are highly skeptical that what Russia and Syria promise will avert conflict may be unfeasible. "If it happens, the administration could have a bit of a victory here," he said, "but there is a lot of skepticism about the deal overall."
Baier added that one implicit element of the deal is that Bashar al-Assad will remain in power.
Steve Doocy asked about Obama telling ABC News' George Stephanopoulos on Sunday that his Syria policy may not garner "style points" from the political press corps, as the run-up to the Iraq War did, but it is nevertheless an effective policy.
RELATED: Obama Defends Syria Policy: Unlike Iraq War, We Don't 'Grade on Style'
"If all comes together, he's right. the history books won't look back at this zigzag foreign policy approach if it works," Baier said.
However, he added that the administration's own actions make the claim that this deal is a preferred policy outcome hard to believe.
"On the same day that the administration accepted the Russia proposal essentially — the president talking about it — you had this administration passing out paperwork on Capitol Hill saying why Russia should not be trusted in this whole deal," Baier said.
"And 'style points,' as the president puts them, matter around the world," he continued. "You have North Korea restarting reactor in the wake of all of this. You have Iran emboldened in the wake of all of this. And you even have liberal Democrats up on capitol hill perhaps standing up to this president, this administration more and that's perhaps what happened to Larry Summers, why he pulled his name from consideration for Federal Reserve chair."
Watch the clip below via Fox News Channel:
[Photo via screen grab ]
— —
> >Follow Noah Rothman (@NoahCRothman) on Twitter
Have a tip we should know? tips@mediaite.com