Bret Baier Struggles To Preview Obama's Economic Speech: 'Boom And Bust' 'Economies Need To Stop'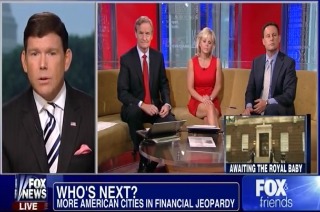 Last week, the city of Detroit announced that it would file for municipal bankruptcy – the largest of its kind in American history. On Friday, however, a local judge halted that bankruptcy saying that it was a violation of the state's constitution to cheat bondholders and pensioners out of the returns on their investments. On Monday, Fox News Channel anchor Bret Baier said that it was unlikely that President Barack Obama would address the situation in Detroit in his economic address that afternoon, but struggled to identify coherent themes that Obama would touch on in that speech.

Baier began by observing that a federal bailout for Detroit is an unlikely prospect. "They are in a dire situation and, essentially, it is up to a bankruptcy judge to divvy up this pie," Baier said.
RELATED: Judge Rules That Detroit Bankruptcy Filing Is Unconstitutional
"Later today, we understand the president is going to be talking about the economy," Steve Doocy observed. "Is he going to weigh in on this do we know?"
"I doubt he'll weigh in on Detroit because it's not a story that the administration obviously wants to focus on," Baier replied. The Fox anchor added that the president will invoke familiar themes about fairness, the middle class, and tax rates.
Baier and the hosts of Fox & Friends noted, however, that Detroit's fate could be shared by a number of other large municipalities wrestling with overwhelming legacy obligations.
"What will the president say?" Gretchen Carlson asked about Detroit.
Baier said that the president will be making an overarching economic address and say that "everybody needs to have a fair share."
"What does that mean, exactly?" Carlson pressed.
"Essentially that means that the boom and bust, he says, economies need to stop," Baier replied. "And what that translates too, Gretchen, I think is that the president would like to see higher taxes on some of the big wealthy makers in the country, and he'd like to see other things done that help the middle class move forward."
"You know, we've heard these terminology — this terminology before, but it's really not been defined that well," Baier concluded.
Watch the clip below via Fox News Channel:
> >Follow Noah Rothman (@NoahCRothman) on Twitter
Have a tip we should know? [email protected]