Brian Kilmeade Battles Geraldo Over His Demand That U.S. Trade All Gitmo Prisoners For One American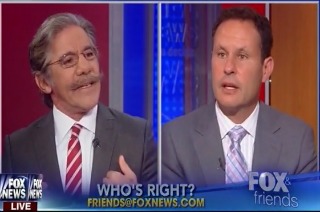 Fox & Friends host Brian Kilmeade and Fox News Channel host Geraldo Rivera's conversation on Friday grew tense after Rivera called for the release of every prisoner in Guantanamo Bay in order to save one American serviceman in captivity. The pair battled over the necessity of exchanging prisoners in wartime and whether the Taliban commanders in U.S. captivity even pose a threat to American forces.

Alisyn Camerota began the segment by reporting that an American in Taliban hands could be freed if the U.S. is willing to negotiate with his captors.
"I would trade every detainee in Gitmo," Rivera said. "Let's bring this kid home."
Kilmeade revealed the military significance of the Guantanamo Bay detainees, noting that many of those still detained held high ranks in the Taliban military prior to the 2001 American invasion.
RELATED: Fox & Friends Hosts Savage Obama For Negotiating With Terrorist, Anti-Women Taliban
"Most of these guys were captured before these guys were on the ground in Afghanistan," Rivera countered. "They didn't fight us. They weren't terrorists, they were army guys."
Rivera said that these prisoners would not be "let go," but that this was a negotiation and a prisoner exchange.
"So, you want to see these guys back then?" Kilmeade asked. "Help reconstitute the overthrown government?"
Kilmeade then asked what leverage the U.S. has in the next prisoner exchange request. "We are de-escalating in Afghanistan," Rivera insisted.
"If these guys come back and kill more Americans, what would you do?" Kilmeade asked.
"They never killed Americans, Brian. That's my point," Rivera clarified.
"He was the secretary of the army with the Taliban," Kilmeade exclaimed incredulously.
"This is a deal you make," Rivera concluded. "This is war."
Watch the exchange below via Fox News Channel:
> >Follow Noah Rothman (@NoahCRothman) on Twitter
Have a tip we should know? [email protected]