Brian Stelter Calls Out BuzzFeed's 'Casual' Request for Comment to Mueller: 'That's a Dereliction of Duty!'
BuzzFeed News editor in chief Ben Smith and investigative reporter Anthony Cormier appeared on CNN's Reliable Sources Sunday to face questioning from Brian Stelter over their disputed report that President Donald Trump directed Michael Cohen to lie to Congress.
Stelter pressed the pair on their editorial process, with Cormier noting the story was in the works for "months" and Smith saying it went through "at least three editors" before it was published.
The CNN host honed in on an email sent from Cormier's co-author, Jason Leopold, requesting comment from the special counsel's spokesman Peter Carr.
Here's the email: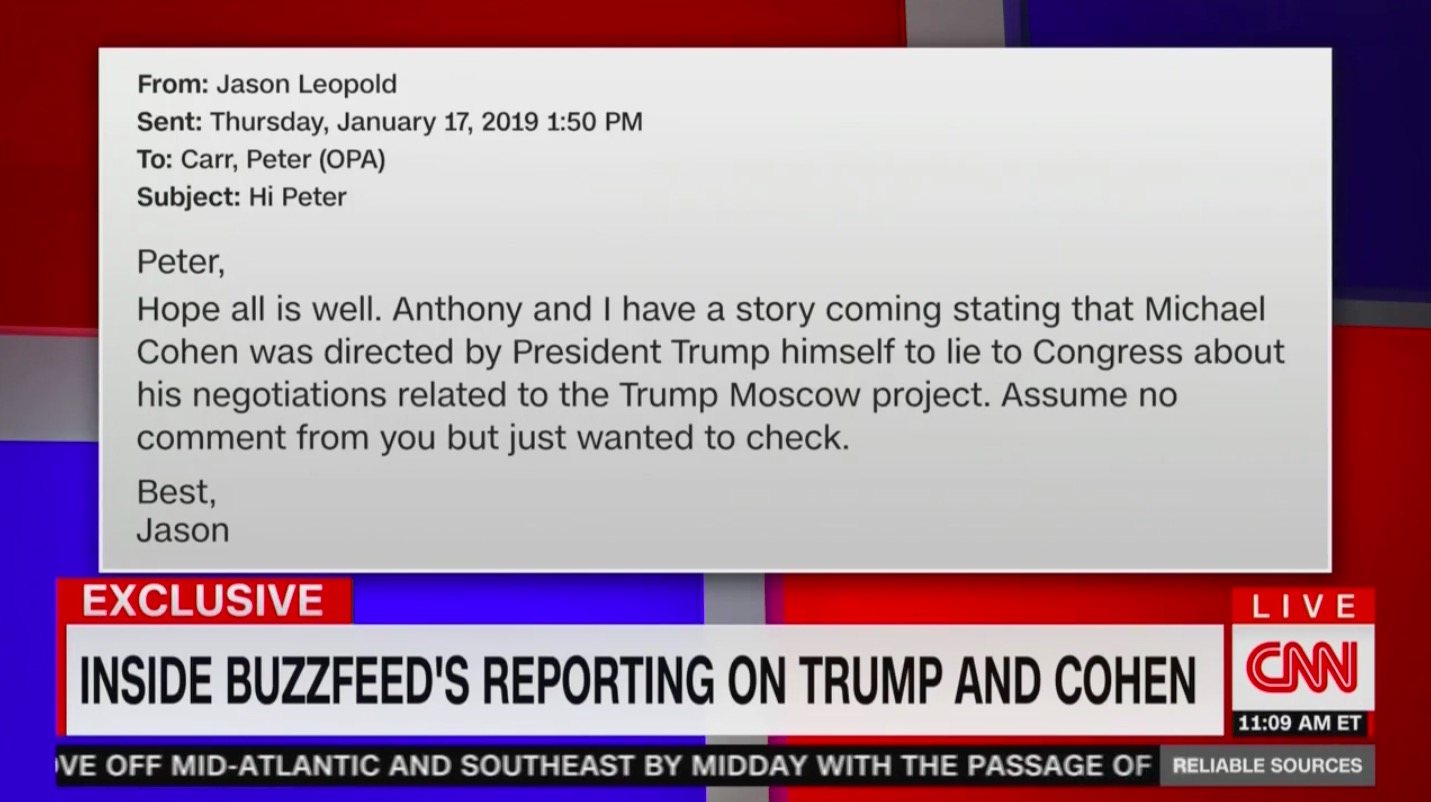 "Ben, to me this is a shockingly casual way to ask for comment for such a serious story," Stelter said. "Do you think that was an appropriate and sufficient way to ask for comment?"
Smith conceded that the Washington Post reported that Carr claimed he would have given more information had he been asked differently. The top BuzzFeed editor insisted that the news outlet was genuinely "reaching out to get information."
"But come on, one paragraph?" Stelter exclaimed. "That's a dereliction of duty to send a three sentence email!"
Smith pushed back by highlighting BuzzFeed's extensive reporting on the Mueller investigation and pointed out that the special counsel rarely provides comment.
"But you're putting the onus on him, I'm putting the onus on you and Jason," Stelter shot back. "I'm concerned that in this case there wasn't enough request for comment, enough detailed conversation with the special counsel's office."
"I think that what you're saying is that you agree but you don't want to say that," the CNN host added.
Watch above, via CNN.
Have a tip we should know? tips@mediaite.com
Aidan McLaughlin - Editor in Chief