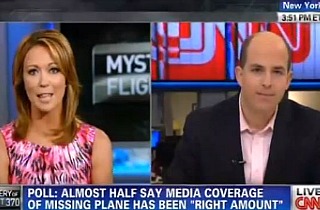 Citing a Pew Research Center survey which found that most Americans are either satisfied with or want more coverage of the missing Malaysian airliner on Tuesday, CNN host Brian Stelter defended his network's extensive focus on that event. He also aimed some criticism at Bill O'Reilly, who criticized the MH370 coverage, saying that the Fox host is "sensitive" to ratings.

CNN anchor Brooke Baldwin began by noting that Pew found 60 percent of the public though the coverage of the missing plane was either adequate or not sufficient and wanted more. Stelter said that professional media critics, more than the public, have been critical of CNN's wall-to-wall coverage of the missing plane.
"This is a story people want an ending to, and they're still not satisfied that they've gotten one," Stelter said.
"Beginning, middle, and an end, and we don't have an end yet," Baldwin agreed.
Stelter noted that even networks with critics of the excessive plane coverage have been devoting a significant amount of time to the story, especially Fox News. Baldwin observed that O'Reilly recently took a shot at the coverage across all major networks for "degrading" journalism. However, she noted that even Fox was covering the story closely.
RELATED: O'Reilly Touts His MH370 Coverage over 'Corrupt' Media's: They 'Exploited' News for Ratings
"I do love it when Bill O'Reilly plays media critic," Stelter said. "I think his criticisms of this ring hollow because other programs on Fox have been covering the plane exhaustively."
"He seems to have an issue internally with his colleagues," the CNN host continued. "He's very sensitive to ratings. When his audience is not interested in something, he changes the subject. So, I'm surprised to hear him being so critical of plane coverage, given that people's appetite for this story is very, very high."
Watch the clip below via CNN:
[Photo via screen grab ]
— —
> >Follow Noah Rothman (@NoahCRothman) on Twitter
Have a tip we should know? tips@mediaite.com