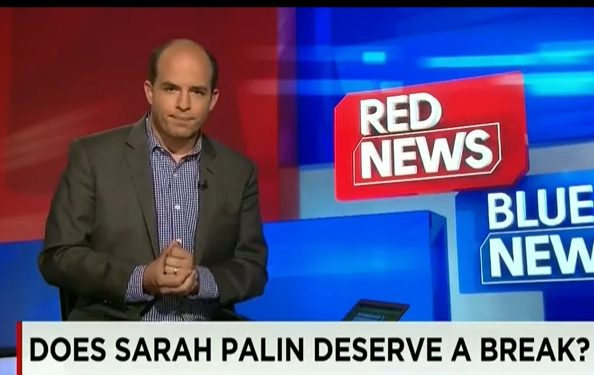 On his show Reliable Sources this morning, CNN host Brian Stelter defended Sarah Palin against media coverage of her family's alleged "brawl" at a snowmobile party earlier this month.
"Doesn't Sarah Palin deserve the benefit of the doubt?" Stelter asked.
He began the segment by airing a clip from Morning Joe in which host Joe Scarborough seemed to take a jab at what Stelter called Scarborough's own network's "saturation" of coverage over Gov. Chris Christie's "Bridgegate" scandal — or lack of.
Stelter then took aim at the New York Daily News's coverage of the story, saying the newspaper did not have its own sources for the story and instead relied on others — namely, an anonymous source reported on by Amanda Coyne, a blogger who focuses on Alaska politics.
"So from one single story, hundreds were born," Stelter added.
He acknowledged that a story about a "VP candidate turned a reality show star gone wild is irresistible to a lot of reporters,"  but said the result was a "feeding frenzy."
One show even created a logo for the story, Stelter said. He credited his own network with attempting to get the Palin family's side of the story.
But he said there are still no photos or videos recounting the alleged events, and said some in the media were "too quick to jump to conclusions."
Other, like Fox News, shockingly, did not mention the Palin brawl story even once. "Palin is, of course, a Fox News contributor, so you have to wonder if the network shied away from the story for that reason, or if it simply decided that the famous family's possible feud wasn't really newsworthy," Stelter said.
He then sided with Palin's daughter Bristol, who wrote on her blog last week about a front-page story on Yahoo! News's website which revived rumors about a possible divorce. "I find something new about my family every day!" Bristol wrote.
Bristol's blog post has to make you wonder. What is it like to see your alleged family drama splashed across the Yahoo front page? Don't they deserve the benefit of the doubt?
Watch the video below, via CNN:
[
Image via screngrab
]
>>Follow Andrew Desiderio (@forsa_desiderio) on Twitter
[Note: Mediaite intern Andrew Desiderio is a student at The George Washington University.]
Have a tip we should know? tips@mediaite.com