Brian Williams And Jon Stewart Debate 'Permanent Era Of Protests' On Rock Center Premier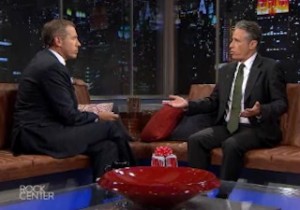 NBC News anchor Brian Williams premiered his new show Rock Center last night, and judging by the very early word-of-mouth, NBC executives should be very pleased. Williams is a whip-smart and affable television host, who is equally adept at covering both low-brow and high-minded topics. Take, for example, his interview with his debut guest, Daily Show host Jon Stewart. The two discussed New York City trick-or-treating and the dawning era of protests in an equally entertaining and enlightening way.
There probably aren't two more respected players in the world of news media than Williams and Stewart, at least in the blue-state world of savvy media consumers. Both are known for a combination of intellectual heft and cunning wit, though in some respects, they are foils for one another. Williams is the respected nightly news anchor who's hobby is showing his impressive comedic chops, while Stewart is a well-regarded comedy show host who is also respected for his insightful media criticism and political news analysis.
The two seamlessly navigated light conversation about taking kids trick-or-treating, complete with the sort of pedestrian commentary that one might expect on a Monday night set at The Comic Strip. Though it wasn't a terribly funny back and forth, it was a nice and light discussion that served as a reminder that at the end of the day, these two news media giants go home to their kids and deal with the same family ordeals as anyone else.
But the discussion became far more interesting in the second half of the interview when Williams challenged Stewart about what was deemed as Daily Show mockery of the Occupy Wall Street movement. Stewart denied that he was making fun of the protesters, clarifying that while the dance circles are terrific fodder for fun, he had "great respect for what they are trying to accomplish, or at least the frustration they are expressing." Williams then asked Stewart if he saw the Occupy movement as representative of a looming "permanent era of protests." Stewart shot back saying "you're a news man," before reminding the NBC News host of the Tea Party movement, and the Iraq War protests as examples.
While Williams gets a pass for looking to extract some funny from Stewart, the more interesting bit came from the serious discussion of the news media. He also showed great judgment in trading in the 19 appearances he's made on TDS to get Jon Stewart to give up a Halloween night with his kids for his premier show.
Watch the segment below, courtesy of NBC News:
Have a tip we should know? tips@mediaite.com