Brian Williams Asks Susan Rice If She Is 'Blameless' In Controversy Over Libya Attacks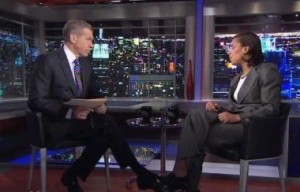 U.N. ambassador Susan Rice effectively closed the door on her potential nomination to the Secretary of State position today, after weeks of criticism over information she provided on a number of Sunday news programs regarding the attacks in Libya. Rice sat down with Brian Williams tonight to explain her decision and how she broke the news to President Obama, while disputing the notion that she was misleading the public based on unconfirmed information.
RELATED: Chuck Todd: Susan Rice A 'Victim' Of Conservative 'Advocacy Media'
Rice said she made the determination it was in her best interest and in the best interests of the Obama administration. Williams asked her what went wrong in her possible nomination to the position. Rice explained that all she did when she went on the Sunday shows was "providing the best information available to me and available to our government at the time," but her intentions were "misconstrued and contorted into something more nefarious."
Williams asked Rice if she was a victim of bad information. Rice said she heard a lot of inaccurate things about her all over TV in the past few weeks, lamenting that it's said when national security officials get caught up in a "political vortex." Williams followed up by asking if, then, Rice considers herself blameless for the controversy that surrounded her. Rice mostly defended herself against her critics.
"Brian, I don't think everybody is ever wholly blameless, but I didn't do anything wrong. I didn't mislead, I didn't misrepresent, I did the best with the information that the United States government had at the time."
Rice insisted that the only piece of information she got wrong was about the demonstration, but the rest of the information was accurate. She told Williams that Obama was very understanding when she called to tell him she would drop her name from consideration.
Watch the video below, courtesy of NBC:
—–
Follow Josh Feldman on Twitter: @feldmaniac
Have a tip we should know? tips@mediaite.com
Josh Feldman - Senior Editor