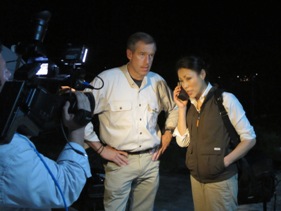 NBC Nightly News anchor Brian Williams was the first of the Big 3 anchors to get on the ground in Haiti, and spent several days reporting on the damage and devastation.
We talked to Williams this week about the experience and the story, still dominating the evening news on a regular basis, in the latest Q&A in our "Back From Haiti" series.
Mediaite: Now that you've returned, and can reflect a little on the story, what do you take away most from the story in Haiti?
Williams: It's hard to express it. I've tried with my own family. It's also hard to discuss the media role there and any struggles we had. I came home from there to structure, a loving family, a good life in America and things like food and possessions. I know members of the media who have a kind of survivors guilt after being exposed to what we were exposed to. It's the depths and depravity and sadness and it's hard to say that I'm happy for anything to come out of this. But I am happy for one thing. I think the Haitian people were properly portrayed in the news media of having a near endless capacity for suffering and hardship, and profound dignity and such an admirable work ethic. This was my fourth trip to Haiti. I plan to go back. We're doing as much coverage as we did a week ago, or ten days ago.
"This is just so gripping and so sad."
Mediaite: When do you plan on returning?
Williams: I feel it would be appropriate to go back only with a real reason for it. To just generically go back and walk through it would be a little pointless since we have perfectly able and capable people on the story. There will be benchmarks. Both former Presidents will probably go to follow up on the American generosity. Think it will become apparent when to go.
Mediaite: You were the first of the big three anchors to start reporting from Haiti. Can you describe the immediate steps you took to get to the story?
Williams: First of all we had an employee of NBC with a loved one who worked at the embassy and couldn't reach him. It was a very tentative first afternoon. The earthquake first came in at a 6.8, and then rose to 7.0, and because of what it did to the communications network it was unclear that night how bad it was…Where plane landed, we unloaded, put our gear down and just set up because we thought the premium was to get on TV and after dark we'd worry about where we'd get what passed for sleep that first night. Everything just moved very quickly. You can't do this in a vacuum, you need to bring water, generators, MREs to feed the team. You're caring for a big traveling family and thank goodness we've done this before, in terrible places, many times. We're used to the drill – but you never get used to what you see.
>>>NEXT PAGE: How Williams deals with reporting from war zones and tragedies.
Have a tip we should know? tips@mediaite.com