Brian Williams Eviscerates Limbaugh And Former FEMA Director 'Brownie' For Their Post-Sandy Reactions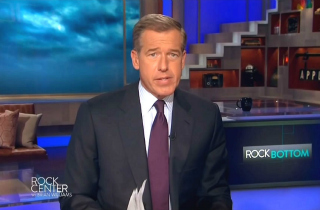 During Thursday night's broadcast of NBC's Rock Center, anchor Brian Williams took shots at both former FEMA head Michael Brown and conservative talk radio host Rush Limbaugh for what Williams considered to be their unsavory remarks in the wake of Hurricane Sandy's destructive path.
Delivering a monologue on news items-of-the-day, Williams mentioned that "'Brownie' is back. Michael Brown, who helped bring us the largest domestic human rights outrage of the modern era – the Katrina response – said this week the lesson of Hurricane Sandy is that people need to chill."
Over footage of smoldering rubble and flood-damaged homes, Williams then snarked: "Something we intend to pass along to these homeowners in Mantaloking, New Jersey, as soon as the embers from their homes have thoroughly cooled."
He continued on to take a shot at Limbaugh, who has spent the last two days blasting New Jersey Gov. Chris Christie for being a "Greek column" in the thralls of "man-love" with President Barack Obama. Williams mentioned that despite Christie being "tactile, indefatigable, and getting high marks for managing the crisis," Limbaugh was criticizing the Republican governor for getting along with the Democratic president.
"So after all this loss you might be curious as to why Rush Limbaugh went after Gov. Christie today. It was because he was getting along so well with the president, working together, saying nice things about Barack Obama," Williams said.
"Just when we think the storm wiped away everything, we learned politics survived," he concluded.
Watch below, via NBC:
[h/t NewsBusters]
— —
>> Follow Andrew Kirell (@AndrewKirell) on Twitter
Have a tip we should know? tips@mediaite.com