Brian Williams Laments The 'Terrible Day For Discourse In A Democracy' On The Daily Show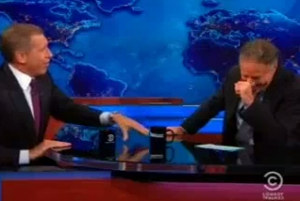 NBC evening news anchor Brian Williams paid a visit to Jon Stewart on Wednesday night, and, save for a few jokes about dogs, the conversation focused on the election and the media's coverage of it. Pointing to Wednesday's barrage of sharp criticisms from both campaigns, Williams deemed it a "terrible day for discourse in a democracy."
Bringing up presumptive Republican vice presidential nominee Paul Ryan, Stewart noted the media's remarks that we'd finally get a substantive election, and asked why we've seen nothing of the sort. "What is preventing the media from discussing more substantive issues before the introduction of Paul Ryan, and then since the introduction, and then, let's say, you know, after the election?" Stewart asked.
"There are a lot of distractions in this world," Williams said, quipping, "R-Patz." Referring to his own news program, Williams added, "We've been covering substantive issues this whole time." About Ryan specifically, Williams said, "Wait until people get a bite out of his voting record…Wait until more people understand the vote on TARP. Wait till we get down the road."
"Today, specifically, as I said tonight, was a terrible day for a discourse in democracy," he said. Then elaborating:
With 84 days left to go until the election; you had Biden's comment last night. Rudy Giuliani comes out today, says Biden isn't smart enough to be president. You had Romney upset because of Biden last night. And you had Team Obama hitting back at Romney. We can't, as a country, keep doing this.
Both sides are "hardened" and everyone's "retreated to their corners," Williams further added. "There is no decent discourse going on."
Riffing off Williams' comment that voters are looking for someone who will fix the country's problems, Stewart asked who that person might be.
Williams replied, "I wish I knew. You know I don't do that kind of thing, Jon."
Take a look, via Comedy Central:

Have a tip we should know? [email protected]