Brian Williams May Have Lied About Meeting the Pope, Watching Berlin Wall Come Down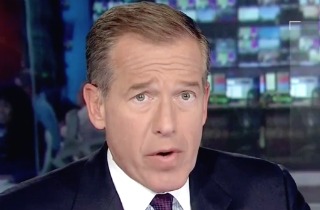 Today, two more Brian Williams stories are being picked apart, and while neither of them have to do with the Iraq War, they do raise further questions about how far the NBC anchor is willing to stretch the truth: A CNN Money report indicates that Williams exaggerated a story about meeting Pope John Paul II as a college student in 1979, and, more flagrantly, being at the Berlin Wall when it fell.
The first incident, which Williams recounted as early as 2002, involved him attending the Pope's visit to Catholic University when he was a student in 1979, though Williams initially said that he had just attended. Starting in 2004, he added the detail that he shook the Pope's hand, which is also plausible. But shortly after the Pope's death in 2005, the story took on some wild turns:
"I have to begin with a beautiful day in 1979," Williams said in an interview published by NBC News. "I was a student at Catholic University, and over the course of two hours, chatted up a Secret Service agent who spilled like a cup of coffee and told me that the pope would be coming our way, straight up the steps of a side door at the National Shrine of the Immaculate Conception. I positioned myself and held out my hand and said, 'Welcome to Catholic University, Holy Father.' And he embraced my hand with both of his, made the sign of the cross, and said a blessing to me."

The same year, he told Esquire he met the pope simply by being in the right place at the right time — not thanks to a chatty Secret Service agent.
While that story stretches the boundaries of plausibility, the second incident, specifically involving him being at the Brandenburg Gate "the night the wall came down" as he has sometimes claimed since 2008, is occasionally straight-up not true:
Williams did indeed witness some of the wall's physical removal. But "the night the wall came down" is widely recognized as November 9, 1989, an iconic date with particular significance to Williams' "Nightly News" predecessor Tom Brokaw.

Brokaw was famously the only American anchorman to report live from the scene on that historic day, an accomplishment that NBC News has proudly trumpeted for years. It was a defining moment for Brokaw.

And Williams has, to be sure, consistently credited Brokaw and NBC for having a jump on the story. In a 2004 interview, Williams said he "arrived at the Berlin Wall a day after — more like 12 hours after — Tom Brokaw did."

"But I got there, and I have my own piece of the wall, my own piece of that memory that I'll always hold tight to," he added.

Other times, Williams has arguably conflated his experience with that of Brokaw's.

"Here's a fact: 25 years ago tonight, Tom Brokaw and I were at the Berlin Wall," Williams said at a gala held on November 8, 2014.
It is quite possible that Brian Williams is the Doctor Who of journalism: he travels through time and space in his TARDIS to visit historical events, then comes back to the present with tales about how he was at the Berlin Wall, or on the Titanic, or making out with Madame de Pompadour at Versailles. Or he could just be making stuff up all the time to look cool.
We'll be generous and say he's the Doctor.
[CNN Money]
[Image via screenshot/NBC]
—
>> Follow Tina Nguyen (@Tina_Nguyen) on Twitter
Have a tip we should know? tips@mediaite.com