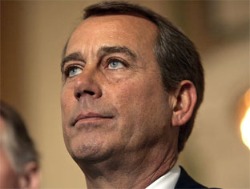 NBC's Brian Williams has landed the first one-on-one interview with John Boehner after his official swearing in as the newest House speaker. The interview is set to air on NBC Nightly News this Thursday at 6:30 p.m. ET. According to a press release from NBC, the interview will show "exclusive details on Boehner's recent transition to the most influential member of the 112th Congress, and the challenges ahead as he prepares to take on Obama's Democratic policies."
And that's all well and good, of course, but Boehner attracts eyeballs (and, thus, either ratings or pageviews, depending on the medium) not only because he is stepping into an important, prestigious and influential role. There's a lowest common denominator element at play in the attention surrounding Boehner as well, and, as such, the marauding bands want to know: Will Williams ask Boehner about "the whole crying thing"? The New York Times, for one, viewed the next Speaker of the House's tears as an appropriate jumping off point to discuss the issue of crying and masculinity. And, well. Boehner's noticeable tan. Other outlets, observing Boehner's propensity to weep publicly, simply wondered whether he might have had too much to drink.
Stupid question or not (or is it true that there are no stupid questions, only stupid answers?), the issue of Boehner's tears ties into the way politicians and other public figures are expected to act, and how the media is anticipated to weigh in. During her bid to become president of the United States, Hillary Clinton's tears (and her laughter) were, for better or worse, the stuff of headlines and photo captions, and deemed by a whole slew of news outlets, print and web alike, both respected and… not… as not only an interesting talking point, but one that was important and relevant to her role as a politician and public figure. So it'll be interesting to see whether Williams will deem Boehner's tears – and the impetus behind them – a legitimate topic of conversation as he steps ever further into the spotlight.
Have a tip we should know? tips@mediaite.com