Brian Williams On Letterman: GOP Debates, Far-Right Candidates, And Occupy Wall Street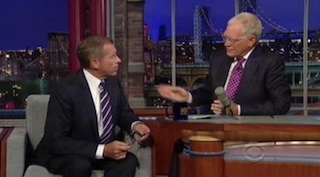 Last night, Brian Williams appeared on Late Show and, considering he moderated a GOP debate, it's unsurprising that politics found their way into a lot of the discussion. However, considering Williams is a network news anchor and all, he had to fight to stay as unbiased as possible which was tough as David Letterman did his best to egg him on. In fact, the whole conversation could be summed up as such; Letterman calls GOP candidate a "psych job" while Williams quickly assures him "That's just the way all candidates are."
That instance occurred during a conversation about Rick Perry. Letterman pointed out the cheer after Williams' death penalty question to the candidate and connected it with how Perry had to apologize after seeming too soft on immigration.
Unlike Letterman, Williams saw nothing surprising about it.
"In a Republican primary, you run far to the right. And then, when general election season comes around, you run right up the middle. You have to appeal to a broad population. Right now, it's the party stalwarts. You can't say something shocking enough to these crowds. You have to keep tacking to the right of your opponent. This will all settle down though comments last forever. They will all be held accountable for what they're saying."
It seemed like a fairly straight forward response although some Conservative blogs are already all over him for daring to use words like "accountable" and "shocking." Still, those angry should remember that, switch a few words around and everything he's saying could apply and would apply to a Democratic primary. Still, Williams is unpopular with that crowd so it's likely that'll get looked over.
The closest we got to a real opinion from Williams was after Letterman's whole-hearted support of the Occupy Wall Street protests. After Letterman explained his belief that no changes got made without demonstrations, Williams agreed that "we certainly saw it in the 1960s." Not exactly an endorsement but as close as a nightly anchor is likely to get.
Watch the clip from CBS below:
Have a tip we should know? tips@mediaite.com