Brian Williams Tells Alec Baldwin: 'I Have Profound Disappointments In My Country'
Williams Tells Baldwin: 'I Have Profound Disappointments In My Country'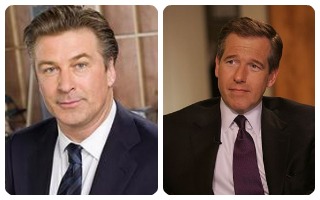 NBC News anchor Brian Williams sat down with actor Alec Baldwin an installment of his podcast Here's The Thing. In the interview which airs on WNYC, Williams told Baldwin that he believes his political opinions have been "cleansed" from his reporting. When pressed on those political opinions and asked if he has any strong feelings about public policy, Williams admitted that he has "profound disappointments in my country."

RELATED: Brian 'Honey Bri Bri' Williams Joins Jimmy Fallon To 'Slow Jam The News' Fiscal Cliff Style
"My work has been so cleansed, as I see it, as I've tried, of political opinions over 27 years," Williams told Baldwin.
No one needs another blowhard yelling at them. No one gives a rat's patootie about my opinion. So that's nice that I don't have to share it. I'd have to form one first on half of these issues, and people, and I can try to call it down the middle, and try to be fair about it, and do a 'just the facts', with a little fun around the margins.
"Do you have political opinions?" Baldwin asked.
"I sometimes don't know," Williams replied. "I have the same disappointments in my patriotism. As a great man once said, I yield to no one. I love this country. I love the American idea. I have profound disappointments in my country. I feel we ought to be in space."
He added that the nation's "spirit of community" appears to him to be increasingly on the wane. Williams said that social media has contributed to this phenomenon.
"I sometimes think, post-war America, post-Vietnam America, has kind of become exhausted," he said. "I have another theory that the growth of self, all things self, has taken away our spirit of community. We can do this, cohesion, American-ness. When an average American citizen has followers — I know you have your own history with social media. You take a citizen who works in a restaurant. They now have the preoccupation of followers."
Williams said that speaking of oneself in the first person, which was rarely used in the 1940s and 50, is now dominant. The celebration of the self, Williams said, is a lamentable modern development.
h/t The Daily Caller
> >Follow Noah Rothman (@NoahCRothman) on Twitter
Have a tip we should know? tips@mediaite.com