'Bridge-Gate': CBS News Digs Into Scandal 'National Democrats' Think Might Sink Christie
Rothman: 'Bridge-Gate': CBS News Digs Into Scandal 'National Democrats' Think Might Sink Christie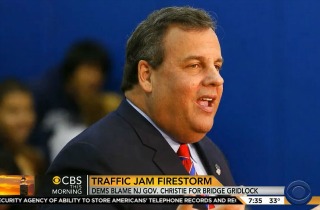 On Thursday, CBS News' This Morning delved into the appearance of scandal surrounding the closure of two lanes of the George Washington Bridge, a span linking the New Jersey city of Fort Lee with New York City, in September. The allegations are that New Jersey Gov. Chris Christie ordered the closure of two lanes of that bridge in order to punish Fort Lee's Democratic mayor who had earlier refused to endorse the governor's reelection bid.
CBS News could not help, however, but focus a significant portion of the story on how "national Democrats" think this controversy can help them diminish the stature of the outspoken Republican politician who polls show may be able to defeat even Hillary Clinton in a national presidential election.

"He won a resounding reelection here in the very blue state of New Jersey," Elaine Quijano opened the CBS report on "bridge-gate." "Well, national Democrats are trying to knock back any potential presidential ambitions he might have by highlighting his local scandal involving the George Washington Bridge behind us."
RELATED: MSNBC'ers: Iowa Poll Showing Hillary Losing to Christie Should 'Worry' Her Fans
"The Democratic mayor of Fort Lee said Chris Christie was retaliating for his refusal to endorse the governor's reelection bid," she continued. "Sensing an opportunity, national Democrats pounced and 'bridge-gate' was born."
"The town of Fort Lee was really shut down," reported New York Times national correspondent Kate Zernike. "He's considered a front-runner for the nomination in 2016, and I think they see this as an enduring issue to highlight the vulnerability of Christie, in that he has a reputation of being a bully."
Two Port Authority officials have resigned recently, suggesting the appearance of impropriety. But New York's Democratic Governor, Andrew Cuomo, has backed Christie's version of the events that led to a traffic study on the bridge that crippled traffic. "To the extent there was misbehavior by officials at the Port Authority, I think that has been addressed by the recent resignations," Cuomo said this week.
More details will emerge about this incident, and supporters of Christie should be concerned that Port Authority officials continue to raise concerns about the decision making process which led to these lane closures. As always, the cover up is often worse than the scandal itself. If Christie is shown to be misleading the public about this incident, his presidential prospects will be severely diminished.
However, it is impossible to ignore how CBS News framed this story – almost entirely in political terms about how Democratic operatives believe they can use this story to tarnish Christie's brand. If this was truly a good governance issue, a news package about the event would be expected to focus more on governance than on politics.
The threat Christie poses even to the Democrats most admired politician in the next presidential election cycle is as real as it gets, and the demand among Democrats for a "Christie killer" is reaching manic pitch. For now, "bridge-gate" does not quite measure up to David's sling and Goliath plods on towards 2016.
Watch the clip below via CBS News:
[Photo via screen grab ]
— —
> >Follow Noah Rothman (@NoahCRothman) on Twitter
Have a tip we should know? tips@mediaite.com