'Bring Back The Death Penalty': Fox Analyst Rips Snowden For Seeking To Be 'Kim Kardashian' Of Nat'l Security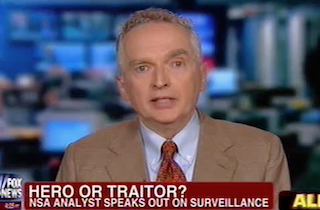 Fox News contributor and former Army Lt. Col. Ralph Peters weighed in on the NSA news and Edward Snowden, the man behind the leak. In short: He had strong words for Snowden — who he characterized as a "high school-dropout thug." Comparing him to Bradley Manning, Peters said when it comes to treason, "you bring back the death penalty."
Peters argued there's not one American who's been hurt by any of the NSA programs, and that they're simply keeping us safe. It's a catch-22, he explained: If they don't use such programs and there's an attack, it's deemed an intelligence failure. But if they do use the programs, then it's all Orwellian.
"Now you've got this 29-year-old high school-dropout whistleblower making foreign policy for our country, our security policy," he told Fox & Friends host Brian Kilmeade. "It's sad, Brian. We've made treason cool. Betraying your country is kind of a fashion statement. He wants to be the national security Kim Kardashian. He cites Bradley Manning as a hero."
"I mean, we need to get very, very serious about treason," Peters continued. "And, oh by the way, for treason — as in the case of Bradley Manning or Edward Snowden — you bring back the death penalty."
Kilmeade said he understood Peters' sentiment and moved on to the question of whether Snowden should even have had access to the information he leaked. The real problem, Peters replied, is the "huge army of contractors." In this case, he added, Booz Allen Hamilton clearly didn't vet too well.
"So you get a guy, again, who is a high school-dropout thug, and he has access to most of our secrets," he underlined.
Watch below, via Fox News:

Have a tip we should know? tips@mediaite.com