'Bring It On!': Fox Biz Anchor Claims Twitter Attempted to 'Punish' the Network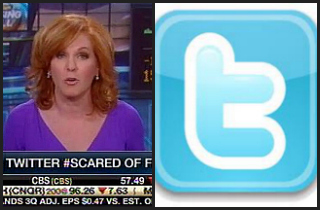 During her Closing Bell show Thursday afternoon on Fox Business Network, anchor Liz Claman railed against Twitter for having "snubbed" her network in favor of an exclusive interview with CNBC on the day of the social media titan's initial public offering. In a column on FoxBusiness.com, Claman expanded upon her charges, asserting that Twitter has attempted to "punish" the network.
"On its first day as a public company, Twitter attempted to discipline a news organization for engaging in the business of exercising its journalistic skills in delivering useful information to people who very much want access to it," Claman wrote. "Investors, and quite frankly anyone who uses Twitter, should know the company's behind-the-scenes behavior on the very day it was bursting onto the IPO scene casts a cloud over the hidden genetics of the company."
Claman and her colleague Nicole Petallides contended that Twitter removed a Fox producer from the company's section on the trading floor. Claman believes the snubbing was a calculated move:
Twitter attempted to "punish" FOX Business yesterday, by refusing to grant an interview with its CEO Dick Costolo…what's highly disturbing is when asked why, Twitter's public relations representative, Jim Prosser, indicated — get this– that the snub was because of a story FOX Business ran online several weeks ago, breaking the news on the timing of Twitter's IPO — a story Twitter did not want out at the time. So word went out: ban FOX Business because they actually acted like journalists and reported — correctly, mind you — news. Twitter then took it to another, more startling, level: Its corporate PR team had FOX Business' producer escorted off the floor of the New York Stock Exchange when she attempted to arrange an interview with the Twitter chief executive.
Claman added that Twitter's PR department effectively spread the word to "ban FOX Business because they actually acted like journalists and reported — correctly, mind you — news."
She reiterated several of the declarations made on-the-air Thursday afternoon, including that FBN "was the first business network to interview the co-founders of Twitter back in June 2008, a time when few had ever heard of the company," suggesting the company should treat the business network with more respect.
"The irony is overwhelming," Claman noted. "The very company that gets its quintessential distinctiveness in how it gives voice to citizens putting out information freely … is apparently and explicitly stating it's in the business of trying to punish news organizations."
Her final response to the whole ordeal? "#BringItOn."
— —
>> Follow Andrew Kirell (@AndrewKirell) on Twitter
Have a tip we should know? [email protected]