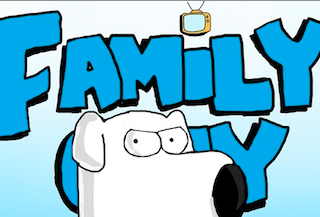 Whatever Seth MacFarlane was thinking when he decided to kill off Family Guy's beloved dog Brian Sunday night, he has succeeded in one respect: Everyone is talking about the show. All three of the major cable news network have aired segments analyzing the backlash from fans, and a petition calling on the show to bring the character back has racked up more than 45,000 signatures as of midday Tuesday on Change.org.

Meanwhile, fans from all over the world have been using the hashtag #BringBackBrian on Twitter to express their outrage at the show's seemingly arbitrary decision: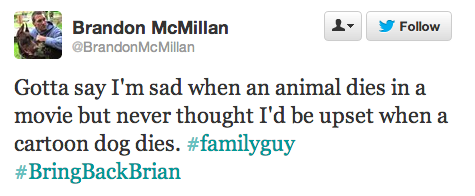 Unable to accept the massive publicity stunt at face value, some fans are searching for clues that will say whether Family Guy has been planning to #BringBackBrian all along. A mysterious website emerged Tuesday at BriansAnnouncement.com that is counting down to a "special announcement" from the character to be made in 10 days on Friday, December 6th.

While it all looks very official, with "A Fox Production" in the corner, 20th Century Fox is insisting that "the producers have confirmed that the 'special announcement from Brian' website is a hoax and was not created by anyone connected to the show, studio or network."
There has been speculation that Fox is launching a new online-only series focusing on the Brian character in one fashion or another, but so far the studio has thrown cold water on that notion.
As Deadline's Lisa De Morales notes, Family Guy's ratings are down double digits compared to last season, so it's easy to see the entire Brian saga as an unexpected way to get people watching again. Perhaps viewers will be more likely to tune in if they think some sort of hoax might be revealed and Brian's not gone for good after all.
For instance, part of the plot summary for the show's upcoming holiday-themed episode, which will air on Sunday, December 15th, reads: "Stewie devises a master plan to get the one and only thing he wants for Christmas." Wonder what that could be…
If you missed this past Sunday's episode, you can watch Brian's devastating death scene and final farewell below, via Fox:
[image via Change.org]
— —
>> Follow Matt Wilstein (@TheMattWilstein) on Twitter
Have a tip we should know? tips@mediaite.com