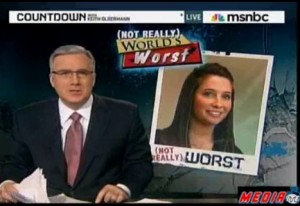 Bristol Palin took to Facebook to fire back at Keith Olbermann over his criticism of her for doing an ad promoting abstinence. Perhaps you remember the spot? Awkward as all get-out and co-starring "The Situation," Palin–a teen mom–urges other kids to cool their proverbial jets.
That spot earned Palin "Worst Person" status on Countdown, with Olbermann mocking her selection as an abstinence role model: "That's like saying George Bush kept us safe, except for that 9/11 thing."
Now comes Palin, with a pretty forceful reply:

Accusing me of hypocrisy is by now, an old canard. What Mr. Olbermann lacks in originality he makes up for with insincere incredulity. Mr. Olbermann fails to understand that in order to have credibility as a spokesperson, it sometimes takes a person who has made mistakes. Parents warn their children about the mistakes they made so they are not repeated. Former gang members travel to schools to educate teenagers about the risks of gang life. Recovered addicts lecture to others about the risks of alcohol and drug abuse. And yes, a teen mother talks about the benefits of preventing teen pregnancy. I have never claimed to be perfect. If that makes me the "worst person in the world" to Mr. Olbermann, then I must apologize for not being absolutely faultless like he undoubtedly must be. To Mr. Olbermann let me say this: you can attack me all you want. But you will not stop me from getting my message out about teen pregnancy prevention. And one day, if you ever have a daughter, you may change your mind about me.
Well, Keith, Bristol's got a point, and, clearly, access to a thesaurus. (Canard? Nobody under 50 has ever even heard of that word, let alone used it) But hey, props to Palin for pushing back with style.
Have a tip we should know? tips@mediaite.com