Bristol Palin Advances To Dancing With The Stars Finale—Thanks To The Tea Party?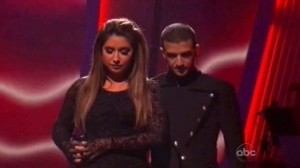 Despite landing at the bottom of the leader board four times this season, Alaska's abstinence-loving former First Daughter (and Mark Ballas, her dance partner) has managed to waltz her way into the finale of Dancing With the Stars. Tonight, it was revealed that Bristol and Mark beat out third-place finishers Brandy and Maksim Chmerkovskiy— even though one of the singer's dances was awarded a perfect score on Monday. Palin, by comparison, has never garnered a perfect 30.
This relatively shocking development—well, for Dancing fans, at least—might be evidence that some viewers have been voting for Palin because of who her mother is, rather than because of her ballroom skills. For weeks now, conspiracy theorists have been accusing Tea Party supporters of gaming DWTS's voting system to ensure that Palin doesn't get eliminated. The craziest thing about this accusation? It might not be off-base.
Earlier today, Tracie Egan Morrissey of Jezebel took a closer look at conservative message boards, where posters reveal that they've been exploiting a glitch on ABC's website that allows Dancing viewers to cast unlimited votes via email. Here's some of what Egan Morrissey found:
Here's a hint: They don't have to be VALID email addresses to register them with ABC.com, there is apparently no validation process. The just have to be formatted like a valid email address, and you must use a valid zip code and a birthdate that makes you old enough to vote. I'm voting like a democrat, all night long…

No, it doesn't have to be a valid email address – I had one of my anonymous ones XXX@yahoo.com that I used, and then just did the sign-up process all over again with XXX1@yahoo.com and it worked.

Got my 80 votes in online…took 2 hours. I am beat

I only got 42 in, I have some catching up to do!

Lord have mercy, I voted for 3 hours online! I got 300 in.
If Palin somehow comes out on top next week, when she'll be dancing against season MVP Jennifer Grey—the recipient of numerous perfect scores—then we might know for sure that something fishy is going on. Then again, considering all that's at stake in this competition is a tacky mirror-ball trophy, it doesn't exactly matter who wins. Right? Right?
See a clip from tonight's results show below.
Have a tip we should know? tips@mediaite.com