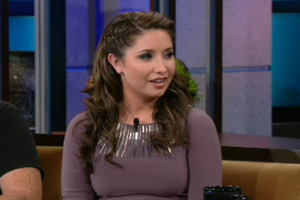 Celebrity mom Bristol Palin is beginning the media tour for her upcoming appearance on Dancing with the Stars, and last night it landed her on the couch of Jay Leno's Tonight Show. Leno went easy the younger Palin, giving her space to dance, laugh, and take a few jabs at her ex Levi Johnston.
Despite being a veteran of the show, though with mom Sarah in tow, she seemed a bit timid this time around at the beginning, explaining how she got onto Dancing with the Stars in the first place (a text message she received at the dermatologist's office she works at) and awkwardly answering high school questions like "Did you go to prom?" (answer: "No, I was pregnant.").
And then Leno gave her space to talk Levi, and suddenly she became both much more comfortable on the hot seat and delightfully, almost scathingly witty. Sure, the audience laughed when she said she wasn't heartbroken, and she still seemed a bit dismayed when she described the pre-fame Levi as "a hard-working Alaskan man," but when it came to his run for mayor of Wasilla, she had some important civic questions about his ability to run. "Well, he needs to move to Wasilla," she answered, "and he needs a GED."
There were also two other moments of extreme awkwardness to note: Leno makes a "rhythm" joke about pregnancy that earns him a fairly angry glare from his guest, and his other guest, outspoken Palin critic Louis C.K., is somehow drawn into a dance lesson with Bristol and her partner.
It's already been speculated before that this season of Dancing with the Stars will be fantastic, but none of that speculation hinged on Bristol's personality so much as her existence around larger personalities like, say, "The Situation." Now that we have a bit more of a perspective on what she can be like when you cross her, we can't wait to see her interactions with the rest of the cast.
The interview via NBC, in two parts, below:




Have a tip we should know? tips@mediaite.com