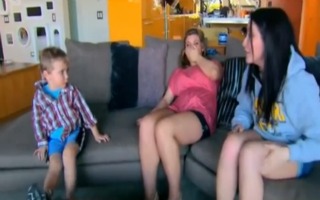 A recently released clip from Lifetime Network's new reality show featuring former Alaska Gov. Sarah Palin's daughter Bristol, Bristol Palin: Life's A Tripp, the young subject of that reality program called his Aunt Willow Palin a "faggot."

RELATED: Bristol Palin's Reality Show Knocked Out Of Primetime For A Re-Run Of Dance Moms
In the clip, Bristol Palin attempts to discipline Tripp and prevent him from going downstairs to join several people at a hotel pool who Bristol believes are drunk. Palin concedes that she is doing "a terrible job of disciplining Tripp" and says she knows "he is going to continue to push the boundaries."
At that moment, Tripp employs the gay slur towards Willow Palin. The two sisters sit stunned by Tripp's use of the inflammatory word.
The Huffington Post notes that they are not surprised, "given his family's history of anti-gay activity." They cite a 2010 post on Facebook in which Willow referred to one of her former classmates as "such a faggot" and "so gay" in jest.
Watch the segment below via Lifetime:
UPDATE: Gawker reports that the program's show runner disputes that Tripp said "fuck" and not "faggot."
Life's a Tripp showrunner Matt Lutz wrote in to say that Tripp's bleeped expletive was "fuck" and not "faggot." Lutz says that he was in the room at the time, and that he has reviewed the raw footage several times.
h/t Huffington Post
> >Follow Noah Rothman (@Noah_C_Rothman) on Twitter
Have a tip we should know? tips@mediaite.com