Brit Hume: Attacks On Right Wing 'Reflex Response,' 'Failed' Political Tactic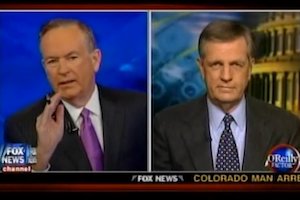 The attacks on right-wing figures after the tragic shooting in Tuscon, Arizona on Saturday formed the chief target of discussion on tonight's O'Reilly Factor, where, after a powerful Talking Points Memo segment, Brit Hume joined Bill O'Reilly to expand upon his comments earlier this evening on the response: a "reflex" on the American Left of questionable sincerity.
O'Reilly's wrath against the New York Times' Paul Krugman, the "biggest villain in this ordeal," opened the segment, with O'Reilly asking Hume for his take on Krugman's attacks on Sarah Palin and others in light of the shootings. Hume was significantly more permissive with Krugman's take, noting that, as an economist, he was "a little bit beyond his expertise" and that political commentary was "beyond him," adding that, given the gravity of the tragedy, it could have been an "unfortunate outburst" written in the heat of the moment.
Beyond Krugman, however, the greater reaction to the shooting seemed familiar to Hume. Attacking inflamed rhetoric for causing violence "has come to be a reflex response on the American left and its how hard to tell how much of it is sincere," he told O'Reilly, referencing the aftermath of the Oklahoma City bombings and the response from President Clinton and others on the left to commentators like Rush Limbaugh. "As a political tactic," Hume concluded, "I would say that it has failed so far," noting that Limbaugh is still around. But the atmosphere in 1995, O'Reilly countered, was vastly different to the one today. For one, he continued, the internet and 24/7 cable news cycles have made it possible for a constant stream of opinions to rise to the surface. "I could've never run my Talking Points Memo," O'Reilly argued, because no network news would air it. Hume agreed: "there was kind of a monopoly viewpoint, and now it's gone."
The discussion via Fox News below:

Have a tip we should know? tips@mediaite.com