Brit Hume Calls Herman Cain's Political Survival Over Sex Scandal 'Almost Impossible'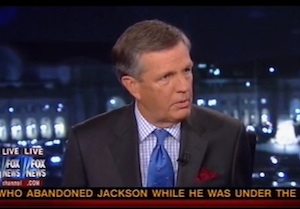 On Monday's Special Report With Bret Baier, Fox News senior political analyst Brit Hume thought Herman Cain's political days were numbered with the latest revelation coming out and an accuser speaking out publicly.
"I didn't think he could survive the other allegations," Hume expounded. "Although I have misgivings about how they came about and the whole case, I think now it's almost impossible. He told everyone there was nothing else that could happen — it had to be made up. Here is a person with specifics. In order to deal with it, he has to rebut specifics in some way and pretty soon you got him alone with a woman and having dinner and the whole thing. I just think it's going to leave Republican voters when they finally get down to voting wondering whether this is someone they can afford to put up against Barack Obama."
RELATED: Herman-ally Ill: Herman Cain's Approval Rating With Republicans Drops 9 Points In One Week
"In a court of law, accusers must prove their case beyond reasonable doubt to win a criminal conviction," Hume explained. "All a defense lawyer needs to do is sow such doubt and the client will be acquitted. But the case of Herman Cain illustrates perfectly (that) in politics the situation is upside-down. All an accuser needs to do is sow reasonable doubt about candidate in mind of voters — no proof is needed."
With Hume's pessimistic analysis of Cain's beleaguered campaign, it will be interesting to see if political commentators will begin to call for Cain to step down from the race.
Watch Brit Hume toll the death knell for Herman Cain's campaign below via Fox News:

(
h/t Daily Caller
)
Have a tip we should know? tips@mediaite.com