Brit Hume: 'Chilling' Search Of Fox Reporter Shows DOJ Treats 'Ordinary News Gathering As Crime'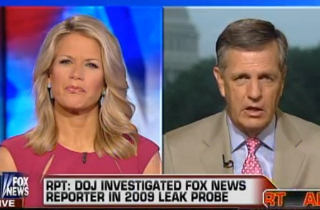 Fox News senior political analyst Brit Hume had strong words to describe the news that his colleague James Rosen was subject to a federal leak investigation, telling America's Newsroom that the story may indicate that the Obama Justice Department wants to treat ordinary news-gathering activities as a crime.
As we reported earlier this morning, Fox News' chief Washington correspondent Rosen was investigated in 2009 after being suspected by Justice of receiving secret information from government sources on North Korea. As part of their investigation, Justice tracked his movements within the State Department, traced the timing of telephone calls with State Department sources, and obtained a warrant to search his personal emails.
Hume told Fox host Martha MacCallum that this procedure was "unusual" because, in this case, "the investigation spilled over into a search through Rosen's personal emails." In order to obtain those, the DOJ had to go to a judge to issue subpoenas for the emails by alleging that Rosen was "involved in a criminal conspiracy" of sorts.
If the DOJ believed that, Hume said, this means "the Obama-Holder Justice Department is now prepared to treat the ordinary news-gathering activities of reporters trying to seek information from government officials as a crime."
"I'm not saying it's unprecedented," he cautioned, "but I can't think of a case where that's happened before… It takes the whole AP thing and casts a new light on the attitude of this Justice Department towards the news gathering activities of First Amendment-protected news organizations."
Hume noted that the DOJ "probably had a right" to search Rosen's movements within the State Department, given that is one of the purposes of having the access cards. However, "where this crosses a clear and bright line," he said, "is when they subpoenaed the phone records based on a pretext that this activity was criminal."
He reiterated: "That places this administration in the position of saying normal news gathering activities are criminal. That is chilling."
Watch the segment below, via Fox News:
— —
>> Follow Andrew Kirell (@AndrewKirell) on Twitter
Have a tip we should know? tips@mediaite.com